Inspired Forward is an Amazon Affiliate partner, as well as an affiliate partner with other bloggers and affiliate programs. We may receive a commission from products purchased through affiliate links in this post.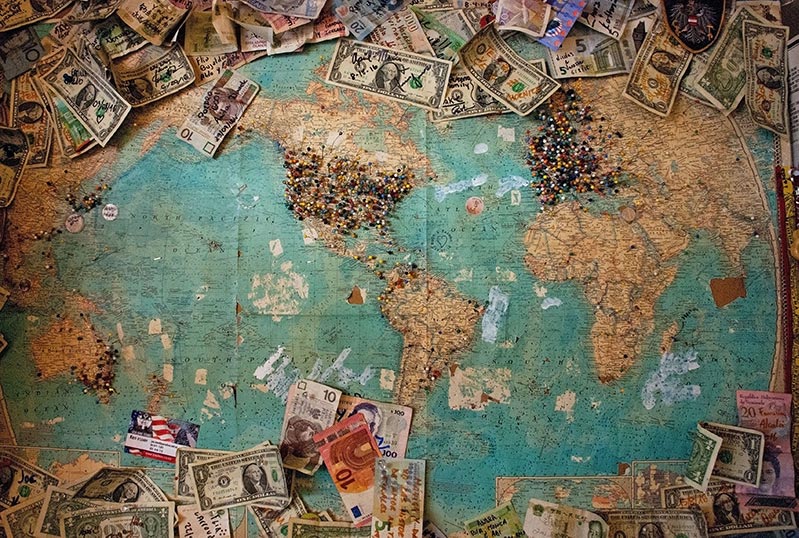 Do you talk to your kids about money?
Is money a "touchy subject" in your household? Perhaps you don't have enough. Or maybe you're well-off but don't think you need to expose your children to the realities of finance.
Financially savvy people don't brag about the millions in their portfolios, but it's folly to neglect to teach your children about finances.
I didn't know how budgeting worked or what the true value of money is until I was almost out of college. As an adult, I look back at my childhood and wish I'd learned things—at least as a teenager—that would have helped out massively while in college.
So here are ten money conversations to have with your kids—before they finish high school.
1. Emergency Funds
The most important concept and value to instill in your children about money is that of the emergency fund. There are always unexpected costs, expenses, and emergencies that take bites out of available funds.
Pro Tip
Set up savings accounts in difficult-to-access accounts. It's harder to spend it on frivolous things when you have to go through a whole transfer process to get the money.
2. Credit Cards & Credit
Credit cards are not scary. It's a very simple concept: credit cards are not free money. The essential conversation to have with your children about credit and credit cards is one of responsibility. Your true "credit limit" is the dollar amount in your checking account—your kid should never think that a credit card equals free money.
Pro Tip
If your child is under 18, build them credit by adding them as an authorized user on your credit card(s)… And then don't give them the card! Make sure you pay off the balance in full every month, otherwise you'll just be ruining their credit in addition to yours.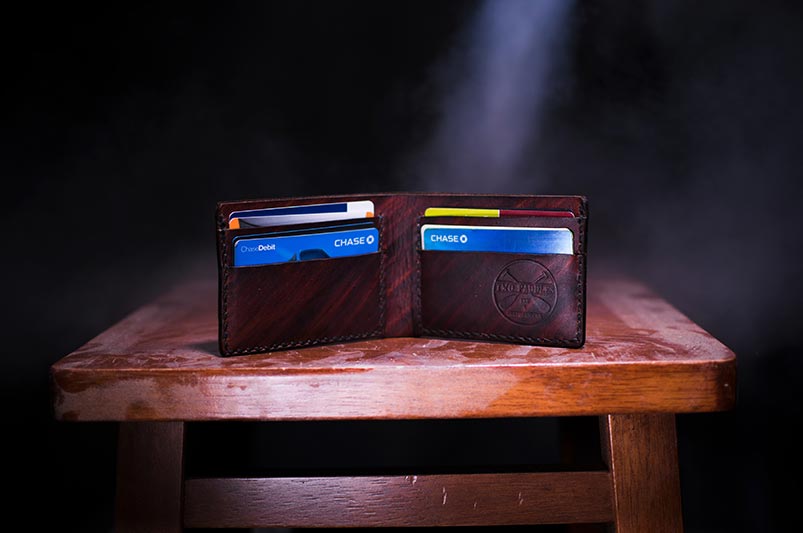 3. Budgeting
Talk to your kids about the basics of budgeting. Every dollar has a job, whether it's for gas, groceries, books, Christmas presents, trips to Disneyland, or a medical expense in the future. Involve them in your monthly budget development so they can learn how much it actually costs to feed them. They might be surprised.
Pro Tip
If you use budgeting software like YNAB or Mint, create a "dummy" budget for them to play with. Let them put in the categories they want to spend money in, and show them how much money it costs to do some things.
4. Income > Spending
According to a 2017 CareerBuilder survey, 78% of Americans live paycheck-to-paycheck. Having this money conversation with your kids is a good way to be honest about your financial standing. Income versus expenditure is the litmus test for financial stability. Breaking out of the paycheck-to-paycheck cycle is difficult, but not impossible. Teach your children to keep their spending below their level of income.
Pro Tip
With young kids, their income is their allowance, if your family practices that. Teach them to divide that income into four buckets: give, save, invest, and spend. Percentages can vary, but the goal is to encourage a conscious mindset about where money comes from and where it goes. If the "spend" bucket runs out, they can't steal from the other buckets.
There are piggy banks that do this for you!
5. Investing (Financially and in Oneself)
Investing is different than spending. Spending is a one-and-done deal that loses value over the long term. Investing brings a return, either financially or otherwise. Investment bank accounts, education, and self-development are investments. Talk to your kids about the importance of compound interest.
Pro Tip
Sign your kid up for Investopedia's Stock Market Game. There, they can play with fake money and the stock market to see how it works in the real world, but without losing any money. After all, if you'd have invested $100 in Apple in 2002, it would be worth $11,136.72 today.
6. Delay the Purchase
Teach your children the psychological benefits of delayed gratification. Wanting things NOW, NOW, NOW! And giving in to these demands doesn't teach good financial practices—or good life skills.
Pro Tip
Lead by example, here. When you go to the store, stick to the list. Things not on the list either go on the list after you get home—which means you'll need to remember them!—or are forgotten, meaning you didn't need them so much as want them.
7. Groceries & Food
It seems strange that groceries and food show up on a list of money conversations, but have you thought about the cost of food? Specifically, the cost of junk food? If your shopping cart fills up with bags of potato chips and boxes of pop tarts, take a second look at a couple of things:
your grocery budget category, and

your family's health.
The true cost of junk food extends far beyond what it costs to purchase.
Pro Tip
Eliminating processed foods, added sugars, and snacks from your house when your kids are still young will help prevent them from developing a sugar addiction. For a more complete discussion on the role of sugar in weight, check out The Obesity Code.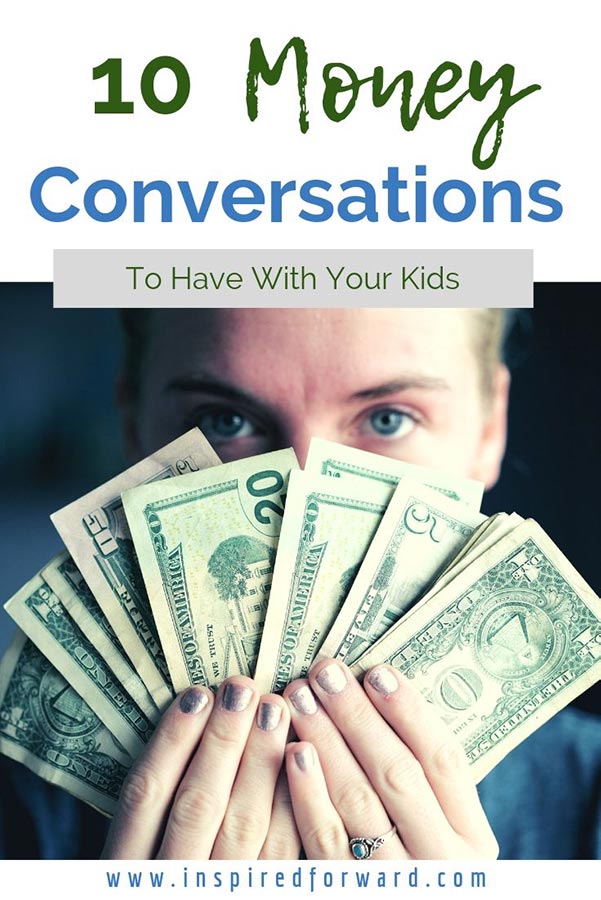 8. Charity, Donations, & Giving
Generosity has many benefits, the least of which is the monetary value of the money given. Helping others triggers feel-good emotions and those who give, receive back blessings they wouldn't otherwise receive when being stingy with money.
Pro Tip
Every Christmas season, have your kid pick one (or a few!) of their toys to donate to a family in need. You might be surprised how they feel about it!
9. Financially Stable vs. Financial Independence
Breaking out of the paycheck-to-paycheck cycle denotes a measure of financial stability, but that's a far cry from financial independence—which means you have enough passive income that you don't need to work a full-time job. Having this money conversation with your kids can help set them up for a future in which they strive to cultivate multiple streams of income instead of relying solely on a 9-to-5.
Pro Tip
Encourage your children to pursue financial stability first. Once they have financial stability, then it's time to branch out to cultivate other streams of income.
10. Self-Sufficiency & Resourcefulness
Talk to your children about how they might find the money to do the things they want to do. They're not going to be able to rely on you and your wallet forever, so the earlier you teach them self-sufficiency and resourcefulness, the better off they'll be. It could be getting a job in high school, starting their own business while young, or even doing the garage-sale-to-eBay flipping thing that's gaining popularity.
Pro Tip
If they get bitten by the entrepreneurial bug, encourage it. College is not for everyone, so if they decide that they don't want to go to college, don't force them to! It's an expensive expense that does not guarantee a future in the job market.
Start a Conversation Today
The money conversation you have with your kids today depends on how old they are. Ones closer to college age should learn about credit, budgeting, groceries, and emergency funds first. Maybe you need to do your own research before taking each topic to your children!
For more ideas, download the bonus content for each of these 10 money conversations!