Inspired Forward is an Amazon Affiliate partner, as well as an affiliate partner with other bloggers and affiliate programs. We may receive a commission from products purchased through affiliate links in this post.
It's only January, and we just emerged from last year's Christmas chaos.
But now is the time to start preparing for this year's Christmas…specifically when it comes to your budget.
How many times have you entered December frantically trying to find money for presents, cards, and postage for all those Christmas letters?
How many times have you looked at the credit card statement in January and cringed at how much you've got to pay off?
Living paycheck-to-paycheck contributes to these problems, but the primary issue is one of budgeting.
Luckily, there are several ways to get on top of your Christmas spending and start budgeting for Christmas now, instead of way later in the year.
Use Historic Average
Step One: What's the Total?
How much did you spend on presents last year? Historically, what's the average?
It shouldn't be too difficult to figure out if you keep good records and pay for most things with a credit card.
If you can't get an exact number, guesstimate; you'll need that number before you do anything else.
Step Two: Do Some Math
Take that number, rounding up or down for averaging purposes, and divide it by twelve—or whatever number of months are left before you need to start buying gifts.
Step Three: Set it Aside
That number is now your monthly budget target for Christmas presents.
This category shouldn't be touched for anything else unless you're in a dire emergency and need every penny you've got to keep your house (or something equally devastating).
Think of this Christmas money kind of like your emergency fund: untouchable until the moment you NEED it.
And, as it happens, you'll NEED it in November or December when Christmas shopping usually takes place.
The rest of the methods here work with the same idea of spreading your Christmas budget across the entire year (or whatever months you have left before you need to buy presents).
"Not to Exceed"
Instead of using last year's amount as your average, pick a number you don't want to exceed. Divide that by twelve and use that as your budget target.
Buy As You Go
Some people will buy presents all throughout the year instead of cramming it into November and December. This is a good practice because it allows you to find things throughout the year that would be good gifts instead of trying to scramble to find things at the last minute, or get sucked into Black Friday and Cyber Monday "deals" that you would have otherwise ignored.
Do a "No Gifts" Year
Depending on your circumstances it's perfectly acceptable to be up-front with friends and family that this year (or whatever year you choose) you're not doing presents. This can also give you a head start budgeting for Christmas in future years. The husband and I did "no gifts" the Christmas after we married, and for the year following that. It was good for us to take a consumerism break and save some money, but I will admit that it does feel pretty nice to give gifts. I've actually always felt better about giving than receiving.
White Elephant
This is fun for holiday parties with friends or coworkers, but can also be a good way to keep your budget figure low for family Christmas gatherings. The trick will be convincing everyone else to play along, but if you allow the "stealing" rules it's a lot of fun.
Round Robin
This is something my family used to do when more of my aunts and uncles came around on Christmas Day. On Thanksgiving, my grandma and her kids (my mom, aunts, and uncles) would confirm the Round Robin for that year. For example, my parents would get a present for Aunt 1 and her family, Aunt 1 would be responsible for Aunt 3 and her family, Aunt 3 would get presents for Uncle 2, and so on.
This fell out of practice as we kids got older and some relatives moved away, but for a while, it worked splendidly. Limiting the buying to one particular group of people is a handy way to get your costs down.
Drawing Names
Similar to the Round Robin (and my family's Table Gift tradition, friend link for non-Medium members), drawing names for gifting responsibility is another way to control your Christmas costs. Combined with the "Not to Exceed" method it should be pretty straightforward what you're going to spend this coming year on Christmas presents, and that lets you establish your budget target early on.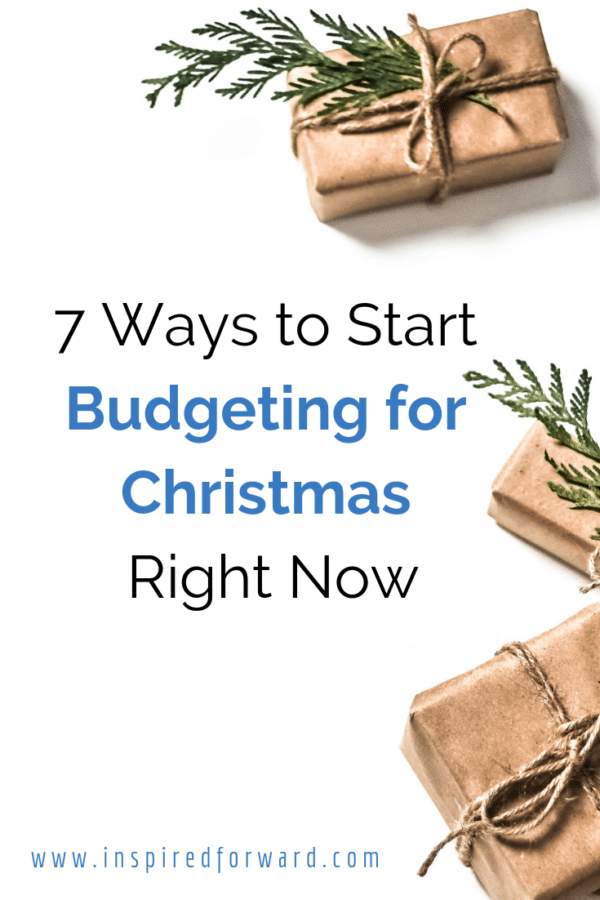 What's the Point?
Well, the whole point of early budgeting for Christmas is to get on top of your finances for the steadily-approaching holiday season, despite how far off it seems. It happens like that every year, doesn't it? Almost as soon as we hit January, it feels like December is just around the corner. 
There's no better time than now to start budgeting for Christmas. Doing so will keep your stress levels low, your confidence high, and your plans flexible. 
Call to Action
What does your Christmas budget usually look like? Are you scrambling and scrimping when the time comes, or is it all smooth sailing for you? I'd love to know down in the comments!