Inspired Forward is an Amazon Affiliate partner, as well as an affiliate partner with other bloggers and affiliate programs. We may receive a commission from products purchased through affiliate links in this post.
This week's episode is all about air travel with type 1 diabetes. I talk about tips for going through security, how to deal with pressure changes in the airplane, and diabetes-friendly snacks to bring with you. I know flying can be stressful—my blood sugar certainly agrees! I'm pretty sure I've never made it through a flight without my blood sugar going high at some point.
One of the most important tips for flying with insulin pumps and CGMs in particular is that they should not go through the full body scanners or the luggage X-ray machines. Non-Tandem pumps are okay going through the metal detector, but when in doubt, request a pat-down.
Wins & Fails
Colleen's Win: I kept my blood sugars mostly stable during my second work conference of the month! This is always a struggle when I'm dealing with conference food… (Smartsheet sure hit it out of the park this year with their conference food!)
Hack of the Week
Use a hard-shell container for transporting your diabetes supplies for air travel. This will protect the supplies inside your bags.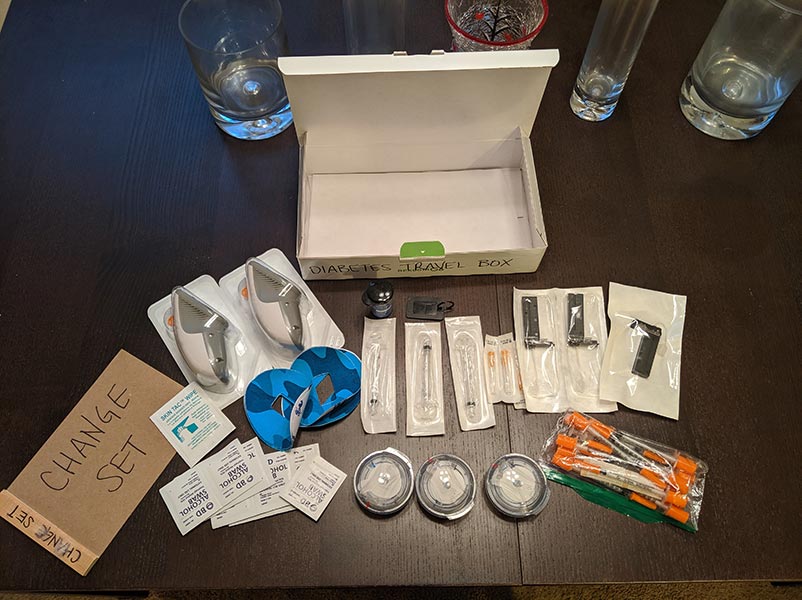 The cardboard "CHANGE SET" thing is 1) a reminder to change my set, and 2) is my extremely useful device to dry the alcohol-swabbed location where I'm inserting either a site or a sensor.
I take the cartridges and cartridge syringe bottoms out of their plastic packaging and add them to the bag with the syringes to save on space. Otherwise it's a lot of excess wrapping I've got to try shoving in there!
Diabetes in the News
Implanted PEC-01 Cells Capable of Producing Insulin According to New Data Presented from Viacyte
A company called ViaCyte has released a report from a clinical trial that shows that their implanted cells, called PEC-01 cells, are capable of producing C-peptide in type 1 patients. This is significant because "C-petide is a biomarker for insulin and is used for assessing insulin-producing cells in patients with T1D."
One of the constant problems with transplant therapies for type 1 diabetics is that it's not a true cure when you have to take immunosuppressants. It's just swapping insulin for another drug you're dependant on. So the fact that PEC-Encap wouldn't require immunosuppressants is really good news for research into a cure.
Links
---
Credits
Our music is by Joseph McDade. Check out his website here! Our audio wizard is my husband, Tim. He runs his own food blog, Split Appetites.
Want to Read or Listen to More?