Inspired Forward is an Amazon Affiliate partner, as well as an affiliate partner with other bloggers and affiliate programs. We may receive a commission from products purchased through affiliate links in this post.
Welcome to The Journey to Magnificence! This is week eleven: April 22-28, 2018.
The Journey to Magnificence is a series of weekly summaries of my journey through courses and resources provided by or found through the Work at Home School, hosted and delivered by Caitlin Pyle.
If you missed a post or found this one first, the others can be found here:
I'm starting to feel the demotivation…yikes! It's time to re-motivate myself!
While this week was pretty busy in terms of life, I still feel like I got some good stuff done. It does feel less than other weeks, and I have to learn to live with the ups and downs of productivity.
That's for sure!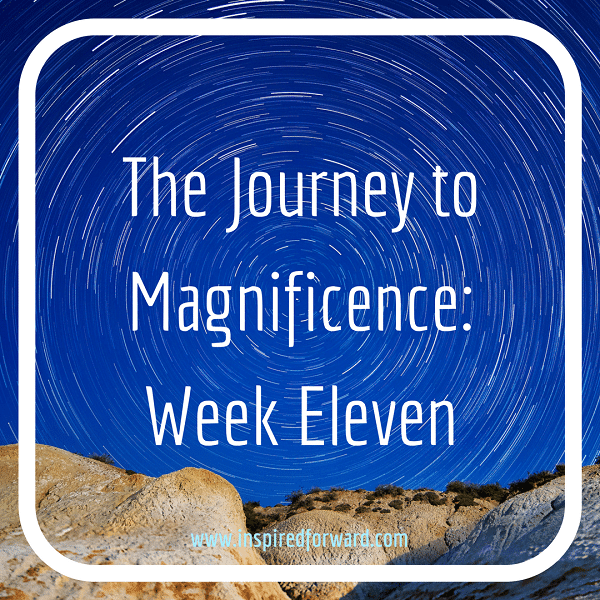 Course(s) of the Week
Intentional Blog

Simple Pin Master Course

Time Management Magic
Sunday, Day 71 – The Cat of the Matter
"Yesterday is not ours to recover, but tomorrow is ours to win or lose." Lyndon B. Johnson
Whatever your feelings are on LBJ, he's right that we need to stop living in the past. There's nothing we can do to change past mistakes, but we CAN change our actions and mindset going forward.
What's done is done.
What's next is changeable.
Today I brought my Grandma over to meet her great-grand kitten. My Grandma loves cats and small dogs, and since she's now in assisted living she doesn't have a pet of her own anymore. She loved petting Luna, although Luna wasn't the friendliest today. (Maybe because we trimmed her claws.) It's always nice having her visit – understandably she doesn't get out much anymore at 92, and appreciates the family time.
Monday, Day 72 – Feels Like Sunday
"Your positive action combined with positive thinking results in success." Shiv Khera
I'm willing to bet that no one actually likes feeling negative all the time.
[bctt tweet="Negativity holds us back. If we're feeling negative about something, it's unlikely that we're going to succeed at it." username="inspiredforward"]
I have a major dislike for talking to people over the phone. It might be an anxiety thing, but whenever I know I have to make a phone call, my negativity about it rears its head. And what do you know, I had to make some phone calls today at work (to people I don't know). At first, I frowned about it and complained to myself about it, but then –
I just did it.
And it wasn't the end of the world.
Calling was a positive action, and for me, not thinking about it too much was the positive thinking. And I had success! I got the information I needed without feeling like I ran a marathon.
While I didn't actually do the things on my "big three" list today, I got some other things done. The most significant of these is that I'm now on Medium! I'm cross-posting my articles there behind their member paywall, but they allow a number of free reads for non-members too—so it's not locked up. Plus they're still here! I became a paying member so that I can "clap" the articles of people I like, which helps support their work.
I also caught up on some food prep, since my available time yesterday was less than usual (and I forgot to defrost the ground beef, sooo)
Tuesday, Day 73 – Dilated Pupils are Trippy
"Live life to the fullest, and focus on the positive." Matt Cameron
This quote, for lack of a better phrase, speaks to me. Sometimes it feels like I'm not living life to the fullest – and that's usually when I'm comparing my life to someone else's. I have Facebook friends whose curated lives are incredibly gorgeous, but I can't see what kind of day-to-day problems they deal with.
That's what I need to remember.
I need to live MY life to the fullest, not someone else's.
And that's focusing on the positive.
I had an eye doctor appointment today, so I totally forgot that I wouldn't be able to do any reading with my eyes dilated. So that also ruled out any writing. Womp womp.
However, videos are fine, so I watched a few Steven Crowder videos and then a couple from Simple Pin Master Course.
Wednesday, Day 74 – The Perfect Date
"Describe your perfect date."
"That's a tough one. I'd have to say April 25th. Because it's not to hot and not too cold. All you need is a light jacket."
Well, Miss Rhode Island, the PNW was in the high 70's today. So – not even a need for a light jacket. Just air conditioning and breathable clothes.
I love that this has become basically a national holiday.
The plan for today actually got met! I made my delicious bacon, watched another video for Simple Pin Master Course, and finished Time Management Magic Module 2.
Thursday, Day 75 – Such Routine, Wow
"The greatest gift of life is friendship, and I have received it." – Hubert H. Humphrey
My thoughts on this one are simple: keep good friends, and keep close to them. I know from experience that sometimes all you need to feel better is to talk to a friend.
So remember yesterday? High 70's, no need for a light jacket, etc.?
Today it hit 90 degrees. It kinda sucked.
Western Washington in April isn't supposed to be 90 degrees. Thankfully I work in an air-conditioned office and have a car with really good AC, so I wasn't too hot for too long.
But really, WA? Whyyyyy??
Thursday routines seem to be nice and predictable. I spend the morning and afternoon/evening socializing the post that goes live this morning and interact with other bloggers on Facebook groups. Today's post is all about my morning routine!
Friday, Day 76 – What's Up Pitches??
"Smile in the mirror. Do that every morning and you'll start to see a big difference in your life." – Yoko Ono
Yoko Ono is on to something. There's science that proves that smiling triggers positive emotions, even if you don't feel them before you smile. It's pretty cool that we can trick our brains into positive emotion just by smiling – even if we have nothing to smile about.
Fridays are our new movie night. This time we watched Pitch Perfect 3 – and I'm in love. I love everything about the Pitch Perfect movies. Elizabeth Banks is one of the funniest women I've watched, and I feel like Anna Kendrick's performance as Beca is basically Anna Kendrick reacting to Rebel Wilson in real time.
This movie made me realize that pretty much all the women in it have some kind of issue and that having a group of reliable friends either makes the issues more bearable or that the group helps resolve it.
#friendsareimportant!
Saturday, Day 77 – First Time Playing Zelda
"Lighten up, just enjoy life, smile more, laugh more, and don't get so worked up about things." – Kenneth Branagh
I really need those words from our dear Professor Lockhart. I get stressed about a lot of things that I don't need to be so stressed about – so I've got to lighten up and laugh more.
But you know…
I'm gonna be totally honest about today.
I didn't do basically anything at all.
In fact, I probably needed to take such a lazy day – I even took a nap! The husband also thought I needed a break too since he said I'm stressed out a lot of the time. He's probably right.
In any case, part of the lazy was breaking out Mario Kart on Wii for the first time in over a year, and I remembered why I stopped playing it – the controls kinda suck and I'm bad at corners. So after one round of that, I switched to Zelda: Twilight Princess, which is my first foray into the world of Zelda! It was fun, even though I didn't get far enough into the storyline to actually fight anything yet. That's probably going to be a loooong time to play since I don't game much anymore with my side hustle goals.
I haven't played Skyrim or Assassin's Creed in a while, either. 🙁
Despite all this needed laziness, I did post another of my articles on Medium – the one on the relationship between mental health and being overweight.
What's Next?
I really need to finish the Simple Pin Master Course and Time Management Magic. Those are going to be my focus for next week, as well as getting Thursday posts ready for the remainder of May – I'm needing a head start for work travel and need to have at least two (hopefully three or four) more posts scheduled out.
Keeping it simple is key.
Affiliate Disclosure: Some of the links in this article might be affiliate links. That means I may get a commission, at no cost to you, if you click through and buy something. Thanks for your support!