Inspired Forward is an Amazon Affiliate partner, as well as an affiliate partner with other bloggers and affiliate programs. We may receive a commission from products purchased through affiliate links in this post.
Welcome to The Journey to Magnificence! This is week fifteen: May 20-May 26, 2018.
I spent this week in some pretty muggy and hot weather.
Tulsa, Oklahoma is definitely not my favorite place, but I met a lot of good people and learned quite a bit from the RCA workshop I attended. In fact, it's applicable to more than just investigating incidents and problems at work: root cause analysis gave me some tools to use in my personal and business lives too. 
What I Said I'd Do
Send a re-engagement campaign to my subscribers

Finish getting GDPR compliant

Take some time to think about my strategies and plans. (so vague, I know)
What I Actually Worked On
Sent re-engagement campaign to subscribers.

Finished getting site GDPR compliant

Finished watching several summit interview videos on work performance

Progressed through several more videos from both Simple Pin Master Course and Time Management Magic
Sunday, Day 99 – Flight of the Suitcase Handle
"Life is the art of drawing without an eraser." John W. Gardner
I've never really liked using erasers. I liked that they made my work neater, sometimes, but using one meant I'd made a mistake and had to get rid of it in order to have a perfect end result. Sometimes the erasers would smudge, and you'd end up with an imperfect thing anyway.
Life doesn't have any erasers.
If it did, there'd be no history. Nothing would have made it through unscathed. There are mistakes riddled throughout the history of the planet, but they all got us to this point.
Mistakes got us penicillin. They got us microwaves. And those are just off the top of my head.
Make mistakes. Learn from them.
Make your own life magnificent.
Moving on…
Small, short flights are fun.
Especially when they make you gate check your bag and then accidentally break the handle when lifting it.
I'm pretty sure baggage handler dude picked up a really heavy bag right before mine and overcompensated with his force – and viola – broken handle.
Sigh.
Reduced ease-of-use but still technically functional.
In any case, my business trip took me from Colorado Springs to Tulsa and I miss home.
As far as I know, though, this site is now GDPR compliant. The new privacy policy can be found here. There is also a cookie policy, which can be found here.
Monday, Day 100 – One Hundred is a Big Number
"Be brave. Take risks. Nothing can substitute experience." Paulo Coelho
I identify with this quote especially today because I took a risk with WAHS. I took a risk to gain this experience because what I was doing before WASN'T WORKING.
(Not doing anything. That's what I was doing before. Nothing. Clearly doing nothing doesn't work.)
Literally nothing can substitute experience. We might learn from other peoples' mistakes to not make those mistakes, but we don't really TRULY learn the same lessons they did. We just see a mistake and think, "Hmm. I don't want to experience the negative feelings that mistake caused, so let's not do what that guy did."
'That guy' is better off than you are.
This isn't the same thing as watching someone do drugs and being like, "Uh, no, don't want that." (Because that's a totally legitimate way of looking at it.)
This is watching someone create a course that didn't sell well and thinking, "Hmm. Maybe creating courses is a dead end."
This is watching someone try a new diet but fall off the wagon (weight loss post) and thinking, "Hmm. Clearly, that diet doesn't work. I'm not going to try that diet."
This is watching someone deal with failed relationship after failed relationship and thinking, "Hmm. Maybe trying to find a partner isn't even worth it."
Those people out there who are taking risks, taking action, and doing shit are better off than the person sitting on the couch and "learning from their mistakes."
Don't be the person on the couch.
This Week Is Gonna Be Soooo Productive
I made a big list of the resources and courses I'm currently enrolled in-slash-have access to.
It's a lot.
And it's long.
But I'm diving in.
I started the next modules of Simple Pin Master Course AND Time Management Magic. I watched a few more interview video's I've been putting off.
And I even walked across the Jenks Pedestrian Bridge in Tulsa, Oklahoma.
Oklahoma is hot and muggy. I'm not a fan.
The food's good though.
Tuesday, Day 101 – Consensus & Opinion are Not Evidence
"There is only one happiness in this life, to love and be loved." George Sand
This is a pretty simple thought, and yet so powerful. When we're loved, we feel safe. One of the leading indicators of longevity is the quality of our relationships. If you've got a bad relationship in your life, chances are it's going to knock a few years off your life.
I don't, however, agree that loving and being loved is the ONLY happiness in life.
I totally subscribe to the idea that happiness comes from solving problems.
But there's not just one type of happiness. There's the happiness of having a spouse that loves you – certainly. And there's happiness from solving problems.
I think George Sand was a romantic.
I'm in a workshop this week on how to look at the root causes of incidents or problems, and the biggest thing I took away from that today was the fact that consensus and opinions are not evidence.
Let me repeat that.
[bctt tweet="Consensus and opinion are NOT evidence." username="inspiredforward"]
This is such a powerfully true statement that I can't even fathom how some people function nowadays.
Herd mentality is not evidence. Opinion is not evidence. Doing something because your boss did it is not a good reason to do it.
I'm looking forward to the next couple days…
Tonight I finished module 5 of Simple Pin Master Course and watched another video from Time Management Magic- this whole planning shit out thing is going great! I'm even watching the videos at 1.75X speed to take advantage of that extra time gained. I haven't quite gotten up to 2X speed yet.
I even squeezed in a quick walk across the river by my hotel, even though the temperature was still in the high 80's even at 7:30 PM.
Yikes, Oklahoma!
What is up with this terrible heat??
Wednesday, Day 102 – One of the Best Burgers of My LIFE
"Just living is not enough… one must have sunshine, freedom, and a little flower." Hans Christian Anderson
For me, this quote is a gentle reminder that we need a purpose in life in order to feel alive.
I think I'm still in the midst of figuring out my purpose, but I'm definitely closer to it now than I was a year ago or five years ago.
Okay so tonight I had dinner with a colleague at a place in Tulsa called Kilkenny's Irish Pub. Their Gut Grinder burger is legit one of the BEST burgers I've ever had in my life.
I will 100% recommend that burger to anyone who goes there.
All deliciousness and juicy meat.
I'm a total carnivore.
In any case, I managed to get my planned blog work done before going out to dinner, which left a sense of satisfaction for having checked off my entire to-do list before the evening meal.
Of course, I'm still feeling like I'm going to get behind on stuff, because I don't usually eat in the evenings, because doing so eats up a lot of time (pun totally intended).
That's the power of being adaptable, I guess – but it comes with more stress than I thought. 
Maybe I'm doing it wrong.
Thursday, Day 103 – Eastern Cheeseburgers vs. Western Cheeseburgers
"Look deep into nature, and then you will understand everything better." Albert Einstein
There's mathematical beauty in nature. Shells and leaves that exhibit the golden ratio or golden spiral. Succulents appear in a vast variety of shapes and textures that defy our common thought of what flora is supposed to look like.
When we understand that everything is connected and symbiotic there's a certain comfort that happens. I find myself staring off into nature and fathoming the immense amount of beauty in it.
Einstein is iconic. 
And he's totally right.
Whenever we lose sight of the goodness and beauty in the world, all we need to do is take a good, long look at the fields of flowers out there. All we need to do is take in the magnificence of nature and realize there are things that are bigger than us.
In a world of dirty politics and brokenness, take a moment to just take a deep breath and smell the roses.
I graduated to watching videos at 2x speed! This is a total game changer for me. I've long felt that I didn't have enough time to watch videos that were longer than ten minutes. But now I can watch a 50-minute video in just 25, which honestly boggles my mind.
I used this newfound power to get through a bunch of videos today (and, I anticipate, tomorrow too!).
My colleague today tried to convince me that fish tacos are the Eastern breed of cheeseburger. I'm not sure where he was going with that, but it made me laugh! 
I've had more burgers (bunless, of course) these last couple weeks than I've had in a while.
My scale might not be happy when I get home…
Friday, Day 104 – Shove a Lot of Work into the Layovers
"Wherever you go, no matter what the weather, always bring your own sunshine." Anthony J. D'Angelo
Positive people create their own sunshine.
None of that perpetual raincloud thinking is going on with them. 
Bringing your own sunshine is a concept that more people should adopt, to be honest. When you bring your own sunshine, you're ready for anything, and when things don't go according to plan, you've still got your positive outlook on the situation.
This is also known as being flexible and going with the flow.
I've learned over the years that getting upset about something I can't change or control will get me nowhere.
I've learned that worrying doesn't help (even though I still worry about things). I worry less, actually, and think more about being adaptable in situations I might otherwise worry about.
It's helped with my worldview and my comfort level when traveling and working.
Do you bring your own sunshine?
I've been reflecting this week on how I'm approaching my goals for this WAHS journey. It was less about the high level and more about focusing on the courses I'm enrolled in and committing to finishing them AND taking the related actions to impact my success.
I think the biggest help is going to be the Time Management Magic method, and my figuring out of a system between Evernote, Google Calendar, and my bullet journal to keep things straight and organized.
I had a four-hour layover between flights home and ended up powering through quite a few videos at 2x speed.
That's one of the best tips I've heard in a while!
Now, when I slow it down to 1x (normal) it feels impossibly slow.
Saturday, Day 105 – WAHS Seattle Meetup!!
"Adopt the pace of nature: her secret is patience." Ralph Waldo Emerson
I'm not a patient person.
Most people who know me will tell you this. It's something I strive to work on daily; some days are better than others. Intrinsically I know that being patient is something that will benefit me greatly in life.
My impractical brain prefers telling me to hurry up!
That I don't have enough time!
Don't miss your chance to be great!
Stop wasting your time!
My brain is a jerk.
Patience is a virtue and well-deserved of that title. 
For me, the day after getting back from a trip (especially a business trip as long as this one – two weeks!) is spent unpacking, decompressing, and getting back into the swing of things.
This was interrupted this time by the second Work At Home School Seattle meetup – which was pretty much just me, my husband, and one other.
It's definitely difficult to find a time where all of us can meet up, but I think it'll be worth it in the end to build these relationships.
Besides that, I opened a dialogue with Demir Bentley from Lifehack Bootcamp, because I enrolled in their F.A.S.T. Time Mastery course through WAHS and am looking to dive in fairly soon.
What's Next?
Start and get through half of the F.A.S.T. Time Mastery course – I'm aiming to actually have this done in the next two weeks because my one-on-one call with Demir is on June 10th! That'll put me right on track to be finished by the call.

Finish Time Management Magic

Finish Simple Pin Master Course

Add Ruth Soukup's Do It Scared podcast to my regular Sunday routine

Outline a post that will be entirely about an affiliate product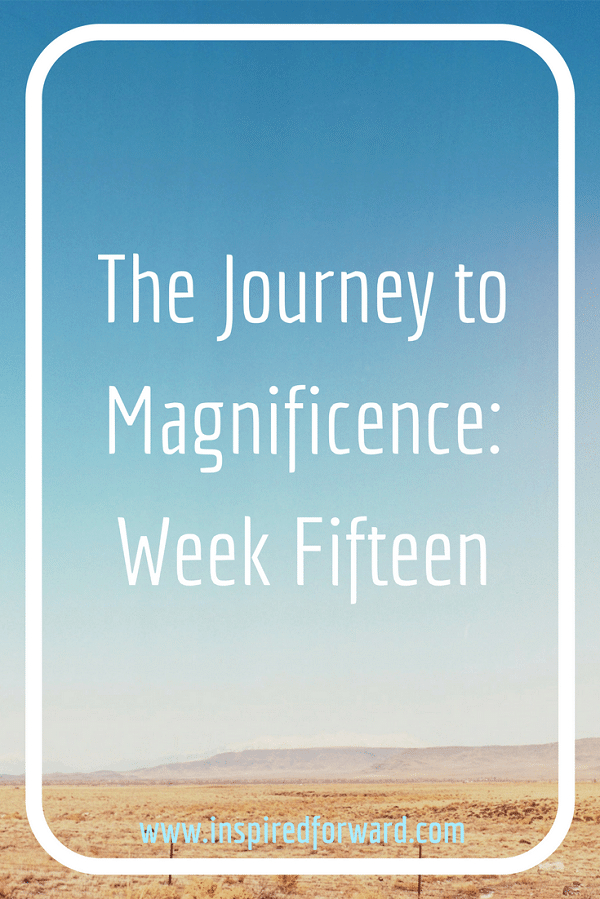 The Journey to Magnificence is a series of weekly summaries of my journey through courses and resources provided by or found through the Work at Home School, hosted and delivered by Caitlin Pyle.
If you missed a post or found this one first, the others can be found here: