Inspired Forward is an Amazon Affiliate partner, as well as an affiliate partner with other bloggers and affiliate programs. We may receive a commission from products purchased through affiliate links in this post.
Welcome to The Journey to Magnificence! This is week fifty-two, the final week of this series: February 3-9, 2019.
This is it.
The last installment of my "Journey to Magnificence."
When I started this thing back in February 2018, I had a tough time imagining what it would feel like to finally reach 52.
But here we are!
My life has changed so much in the last year.
I've consistently posted twice a week on this blog, made almost $250 on Medium from locked stories, started a Virtual Assistant side-business—and landed clients way faster than I ever thought would happen!
I got clear on my goals for 2019 and every week I look back and look forward so I can iterate the next week.
That's truly the secret—take it one step at a time, and don't rush.
What I Said I'd Do
Big Goal: Publish my book.

Big Goal: Achieve a healthy weight.

This Week: utilize my hotel's gym in the mornings (at a conference in Vegas!)

Big Goal: Earn $12,000 in side-income.

This Week: Continue working with clients, and spend some time in online courses that build my skills offerings.

Personal Goal: Interviewing my Grandma

This Week: Clean up audio from Sunday's interview
What I Actually Worked On
Edited 5 scenes for my book

Got a new contract out for my wonderful client

Survived a company conference—in Las Vegas, of all places
Days 358-364
I flew to Las Vegas on Monday morning—kind of.
We were scheduled to take off at 11:30, but the Seattle Snowpocalypse rolled in overnight and it took me an hour and fifteen minutes to drive to the airport when it normally takes about 25 to 30 minutes. I knew, going into it, that it was probably going to be a long day, but I honestly had no idea how long.
Everything was on-time until we were supposed to board, and then we were delayed for an hour. Then, after boarding, we sat on the tarmac for another two and a half hours—enough time to watch an entire movie on Delta's seat-back screens.
For the record, Johnny English Strikes Again is pretty good if you're a Mr. Bean fan.
When we finally landed in Las Vegas it took a couple hours before we actually had dinner, and then I needed to go on an excursion to find a container of heavy whipping cream since I still drink Keto Chow while on work trips. Grocery stores are not a staple on the Vegas Strip, let me tell ya.
All in all, I wasn't in bed until 10 PM and my week was off to a somewhat rocky start. I was so busy, in fact, that I didn't once get down to the hotel fitness center.
But that's all okay.
Rule of Life: Roll With the Punches
I wouldn't have gotten this far in my journey if I treated every setback or let-down as a stop sign. If I'm not able to finish my to-do list, I need to re-evaluate how much I can actually fit into the time I have. If that means something on the to-do list gets chopped, so be it.
Even choosing my top 3 things to do can fall short. While yes, it's ideal to actually finish those top 3 things, life happens!
It's not the end of the world if I don't actually finish those 3 things—all of them, or any of them.
Sometimes you have a really stressful travel day and forget to meditate—and end up breaking your 550-plus-day-streak in Headspace. (That happened.)
And sometimes you need to get a Streak Freeze in Duolingo to maintain your 550-plus-day-streak there, too. (Also happened. Three times.)
This week has been a good reminder to practice patience even when I struggle with it—almost being late to a dinner reservation, for instance. This year, in fact, I've gotten a lot more mellow about the things I can't control and how I let them affect me. 
Lack of patience notwithstanding.
This year has taught me a lot, and I'm looking forward to the next year and what it'll bring.
Thanks for joining me on this interesting ride and, as always, you can find the first 51 installments below 🙂
What's Next?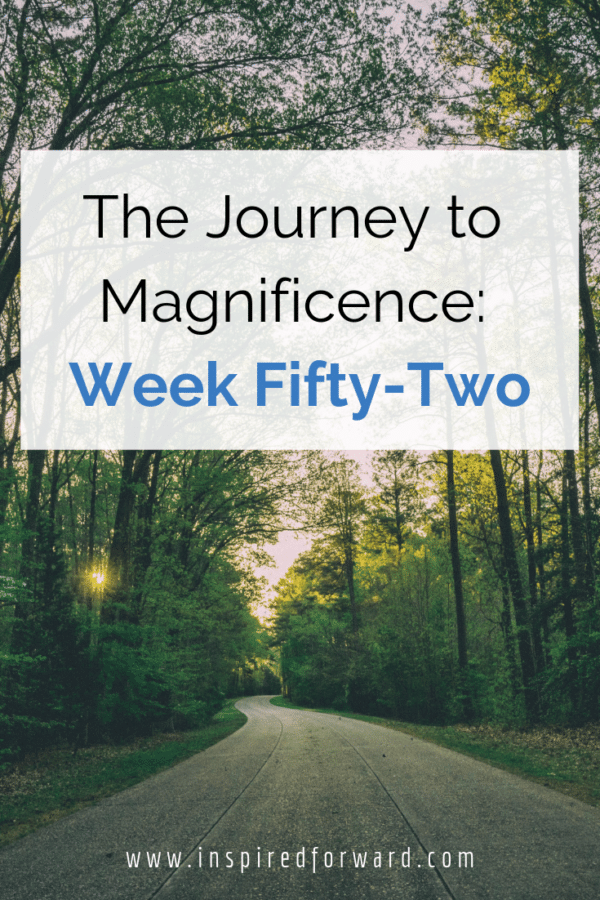 The Journey to Magnificence is a series of weekly summaries of my journey through courses and resources provided by or found through the Work at Home School, hosted and delivered by Caitlin Pyle.
If you missed a post or found this one first, the others can be found here: