Inspired Forward is an Amazon Affiliate partner, as well as an affiliate partner with other bloggers and affiliate programs. We may receive a commission from products purchased through affiliate links in this post.
Welcome to The Journey to Magnificence! This is week forty-one: November 18-24, 2018.
I didn't manage to keep the motivation and progress streak this week for non-NaNo stuff, but I'm still proud of my progress towards 50,000 words in a month. Moving into December will be nice, giving me more time to take a breath and figure out what's next.
What I Said I'd Do
Write another 11,667 words for The Seventh Sorceress

Launch "Work With Me" virtual assistant page

Finish modules 1 & 2 of Project Management for Virtual Assistants
What I Actually Worked On
NaNoWriMo (word count at 45,202 as of Sunday night)

Family time for Thanksgiving
Days 281 – 287
This week ended up having three days where I did not meet my daily word count goal but made up for them the days following by adding the missing word count and making that my new goal. It paid off, with the day after Thanksgiving being my "wordiest" day of the month, at 2,625 words written!
Thanksgiving was great. Every year my extended family (most of whom live in my area) gather at my parents' house for potluck-style Thanksgiving dinner. Since about last Christmas, I've been slowly getting my aunts (and mom) into a low-carb mindset, and it turned out that most of what we had for Thanksgiving was keto-friendly! Mashed potatoes and bread rolls were still brought for the carb-fiends (my husband, sister, and cousin), but everything else was delicious and low-carb.
I consider this a win—no one even brought dessert! We had a cheese platter (with about twelve different kinds of cheese), but there was nary a complaint about the lack of pie and whipped cream.
Aside from the holiday festivities, this week has pretty much been dedicated to hitting my NaNoWriMo word count. We're down to the final stretch, and I'm finding it's getting a bit more difficult as the deadline draws near. I'm not worried about not hitting the goal of 50,000, but I know my story is not going to be complete or cohesive when I do hit 50,000—because it's going to be much longer, probably around 75,000 words or more.
Did you have a good Thanksgiving? If you're participating in NaNoWriMo, how's your word count? Are you on track to finish by Friday?
Let me know in the comments!
What's Next?
Launch "Work With Me" virtual assistant page & solicit feedback from Facebook groups and friends

Finish modules 1 & 2 of Project Management for Virtual Assistants

Outline December posts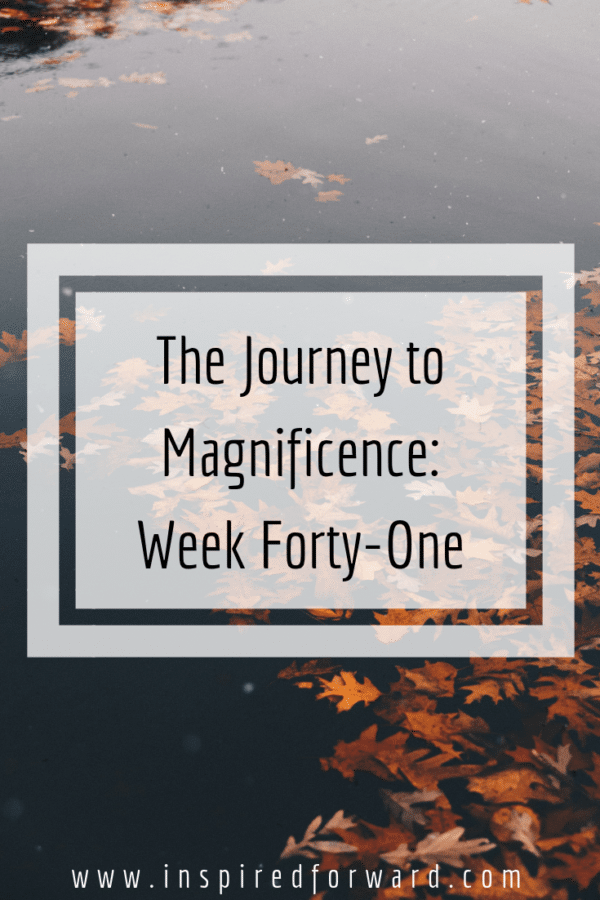 The Journey to Magnificence is a series of weekly summaries of my journey through courses and resources provided by or found through the Work at Home School, hosted and delivered by Caitlin Pyle.
If you missed a post or found this one first, the others can be found here: