Inspired Forward is an Amazon Affiliate partner, as well as an affiliate partner with other bloggers and affiliate programs. We may receive a commission from products purchased through affiliate links in this post.
Welcome to The Journey to Magnificence! This is week forty-seven: December 30, 2018 – January 5, 2019.
It's here! The start of 2019, the last year of this decade. I like years that end in -9 because they offer us a last chance to fit the accomplishment of some goals into the current decade. Come 2020, it'll be a whole new ballgame 😉
What I Said I'd Do
What I Actually Worked On
Days 323 – 329
At the start of a new year, there's so much going on. Motivation is high, and so is the discipline. I'm building habits, though, not relying on willpower and excitement to keep me going.
That was the idea behind "take each day as it comes" instead of defining my daily lists so concretely when things might need to be flexible.
For example, my dad ended up picking up something from my niece over the last few days of the week, which interrupted our plans to go skiing.
So instead, I accidentally slept through my alarm (I'm calling it divine intervention), created my course landing page on Saturday morning, and then spent about 2 hours in Half-Price Books selling the books we culled during our major decluttering phase.
Final result?
An extra $400 (minus the cost of Tim Ferriss's The 4-Hour Workweek which I've been trying to find at that store for ages)!
Totally worth spending a big chunk of the afternoon in a bookstore, which is actually really dangerous for my wallet.
I told my husband before we even got there that he was to limit me to just the 4-Hour Workweek book, because I'm notorious for finding a huge stack of books that I want to adopt, regardless if I'm going to read them in the near future or not.
Hence why we ended up with enough books to net us $400.
Granted, most of that came from college textbooks that neither of us has opened in four years, but that's just a minor detail. 🙂
So that study Bible.
On Christmas I asked my mom if she had a study Bible I could borrow for a year and she ended up just giving it to me because it's the super tiny font that's typical for Bibles and she uses a different study Bible with large text for her aging eyeballs.
Saying "Score!" sounds a little crass, but this study Bible is actually exactly what I was looking for.
The footnotes are extensive and explain a lot of context and cross-references between other books of the Bible. My reading plan for 2019 is chronological; I'm starting in Genesis but after chapter 11 I skip to the entire book of Job and then back to Genesis. Similarly, the Psalms won't all be read at once; they pair with other books as well.
What's Next?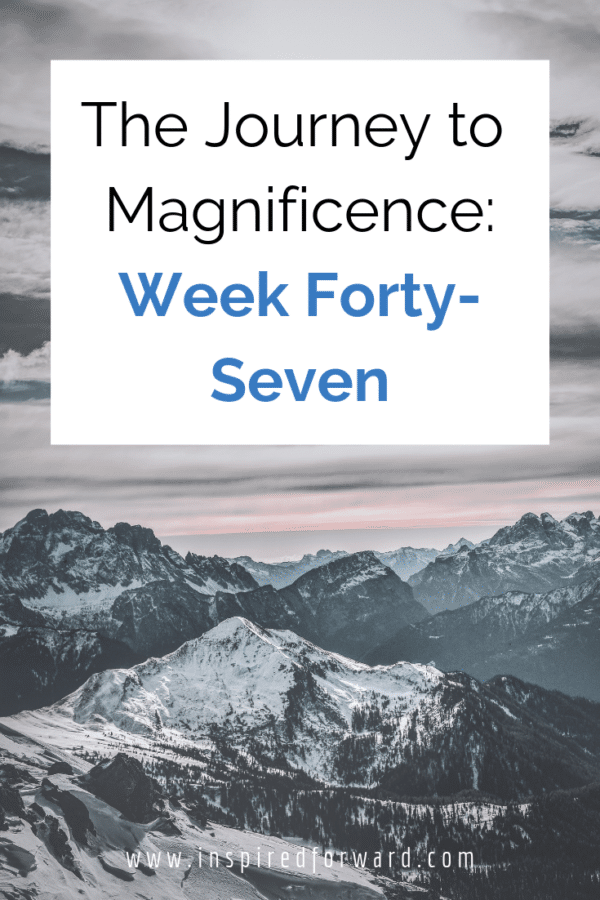 The Journey to Magnificence is a series of weekly summaries of my journey through courses and resources provided by or found through the Work at Home School, hosted and delivered by Caitlin Pyle.
If you missed a post or found this one first, the others can be found here: