Inspired Forward is an Amazon Affiliate partner, as well as an affiliate partner with other bloggers and affiliate programs. We may receive a commission from products purchased through affiliate links in this post.
Welcome to The Journey to Magnificence! This is week fourteen: May 13-May 19, 2018.
This week I was actually on business travel to Colorado Springs! I was able to take advantage of the great, slightly bipolar weather to hike, explore downtown, and participate in the Pokemon Go Community Day (Charmander!).
What I Said I'd Do
Get my site GDPR compliant
Get the next 2 Thursday posts scheduled
Finish up the rest of last week's to-do list (because the weekend was poorly scheduled).
What I Actually Worked On
Got a privacy policy done and uploaded
Started noting where I need to update forms
Added a cookie banner at the bottom of the site
Got the next 2 Thursday posts scheduled
Started working on future posts
Finished up last week's to-do list!
Sunday, Day 92 – Mad Woman
"Be brave enough to live life creatively. The creative place where no one else has ever been." Alan Alda
Only you can be your version of creative. Only I can give you these weekly summaries exactly how I give them because it's by me. I'm my own brand of creativity, just like everyone else is their own brands. That's the cool thing about creative work – something one person does could not have been done by someone else.
Sure, you might end up with something similar, but never identical. That's why schools take plagiarism so seriously. Plagiarism in itself is proof that no two people can ever independently produce the same piece of work.
So why shouldn't you be your brand of creative?
It can be scary.
That's why Alda asks you to be brave.
Be brave enough that your need to share your creativity is stronger than the fear holding you back.
Packing Like a Mad Woman
I spent today alternating between packing for my work trip like a madwoman and banging out the post for last week. It took about an hour and a half to write, edit, and schedule since I'd already made the post images in my big batching session several weeks ago.
On the plus side, I got two weeks worth of packing into a carry-on and backpack!
Monday, Day 93 – Coffee @ 3 AM
"Turn your face to the sun and the shadows fall behind you." Unknown
Look ahead.
Pay attention to the good things in life.
Focus on the positive.
There are a lot of ways to say what this unknown person says. Let all the shadows of your life stay behind you, in the past. Don't focus on them. You can't change them, so why bother thinking about it?
That's not to say that reflection upon the things you can improve is a bad thing, it just means to not ruminate upon the past so much that you're missing the present.
So let the sun warm your face and ignore the things you can't change anymore.
3 AM Coffee
You know what happens when you order coffee at three in the morning in an airport?
Some lady was either really tired and in a hurry or really confident – but she took my drink without checking it (or, apparently, hearing what it was from the barista) and went on her merry way.
I hope she enjoyed that Americano with two different types of sugar-free syrup and heavy whipping cream because I'm pretty sure her abandoned drink was a sugary latte of some kind.
I'm not bothered or salty about it – it's just part of life at three in the morning at an airport.
People do weird things when they're tired.
I took the opportunity on my flight to write out some to-dos for this week, and add to the content for the next few Thursday posts. And besides a bit of social media scheduling, that was about it for the blog side of things.
Tuesday, Day 94 – At Least the Bacon is Good
"Perfection is not attainable, but if we chase perfection we can catch excellence." Vince Lombardi
Vince Lombardi was known for being a difficult and demanding, but very successful, football coach. This quote makes me wonder if he ever told his players that the perfection they pursued would never be caught, considering his impressive Superbowl wins.
But excellence is something we should strive for. There's no reason to be average or mediocre if you want to better yourself.
The very definition of insanity is doing the same thing over and over and expecting different results.
If we chase perfection, remembering that we'll never achieve it, excellence is there.
I'm not perfect, and I know I'll never be. I'll always be a work in progress.
If all we do is strive to be better than we were yesterday, that's progress.
That's chasing perfection and catching excellence.
Today was back to a semblance of a routine (albeit one in a hotel room), so I'm well on my way to getting all my to-dos done for the day. Who knows about the rest of the week, though!
At least the hotel bacon is good.
We did get a flash flood in the middle of a thunderstorm, which was pretty exciting! I got a video of the insane downpour because I've never been in one like it.
Wednesday, Day 95 – Cave of the Winds
"All you need is the plan, the roadmap, and the courage to press on to your destination." Earl Nightingale
Without a plan, the knowledge of how to get there, and courage to do so, we're lost. I'm a planner. I've been a planner since elementary school. Sometimes I didn't have a map, just the idea.
And sometimes I didn't have the courage or the motivation to work towards my destination.
I've gotten a kick in the pants a couple times from different sources, the most recent of which is Caitlin Pyle.
And actually, I went on a tour today that had a story about someone who kept on moving forward.
The Cave of the Winds in Manitou Springs, Colorado is pretty much the story of a guy who dug through 40+ feet of solid rock to get into a cave system and started charging people for tours.
What if he'd stopped five feet in? Ten feet? Thirty-nine feet?
What happens when we give up on our dreams?
We give up on ourselves.
We stop believing that we can DO IT.
Here are some bonus pics from the cave tour – some parts creepy, all of it cool.
Thursday, Day 96 – Space Discovery Center
"Don't judge each day by the harvest you reap but by the seeds that you plant." Robert Louis Stevenson
I'm doing my best to plant seeds of inspiration in you. What can you do to make your life a little better today than it was yesterday?
I'm a work in progress. We all are.
This week I'm really working on getting the site up to GDPR standards (as best I can). I've got a privacy policy now, and soon you'll see a link to that on all of the sign-up forms.
I did get the chance to visit the Space Discovery Center in Colorado Springs, which at first glance is mostly geared towards families with small children. However, it had a lot of cool stuff about space exploration, including scales around the place that tell you your weight on different planets.
Friday, Day 97 – Cheyenne Mountain, Stargate Command is Confirmed
"When you have a dream, you've got to grab it and never let go." Carol Burnett
I hope I'm doing that. I like to think that I am.
Are you?
Today might be my favorite day of this week.
I got to hike Cheyenne Mountain.
(Well, okay, I hiked the state park that has a FANTASTIC view of Cheyenne Mountain, but I'll take what I can get).
I'm a huge Stargate nerd.
It felt pretty awesome to see that mountain in person, even though the Air Force Base doesn't allow tours.
Besides hiking, I did get a bit done on here, including finishing up the Thursday post for this week and completing module 4 of Simple Pin Master Class.
I also enrolled in three more courses:
30 Days or Less to Virtual Assistant Success
Making Sense of Affiliate Marketing
Lifehack Bootcamp
I'm looking forward to integrating these into my rotating schedule of courses since clearly, I haven't been able to do one at a time.
Saturday, Day 98 – Garden of the Gods
"Experience is simply the name we give our mistakes." Oscar Wilde
I particularly like this quote because it jives with the idea that there's no such thing as failure – only opportunities for learning what NOT to do.
Nobody ever gets better at something without "failing" at it first. If you don't make mistakes, you don't learn!
Sometimes we can learn from other peoples' mistakes, but not always.
Sometimes we've got to make those mistakes ourselves so we can get the experience firsthand.
Today started off weird; because I'm in Colorado right now, my nose is not used to the higher elevation and I got my third bloody nose in two days. I can hike and exercise just fine, but damn if I can't keep my nose from bleeding!
It's really inconvenient.
Sorry if that's TMI.
Anyway, I drove and hiked around Garden of the Gods today, which was absolutely amazing. I got a lot of good pictures.
I did come across some guy who was climbing between two tall, thin rock formations (first big no-no, you're not supposed to climb without a permit/gear or even go off-trail) in just his sandals (second big no-no). Quite a few people stopped along the walkway to watch him sit at the top of this thing, and I muttered "What an idiot" in Hermione's voice as I passed by.
I may have gotten a chuckle out of a bystander.
It was also Community Day again for Pokemon Go, and I managed to get two shiny Charmanders, although both of them were extremely low.
I evolved a CP 10 shiny Charmander into a CP 35 shiny Charizard, though, which looks hilarious:
In addition to the great outing at Garden of the Gods, tonight has been an exercise in getting shit done. I actually finished the Affiliate Marketing course (it's just reading, to be honest) but I'm far from implementing anything yet. My priority has to be finishing getting GDPR compliant.
What's Next?
Send a re-engagement campaign to my subscribers
Finish getting GDPR compliant
Take some time to think about my strategies and plans. (so vague, I know)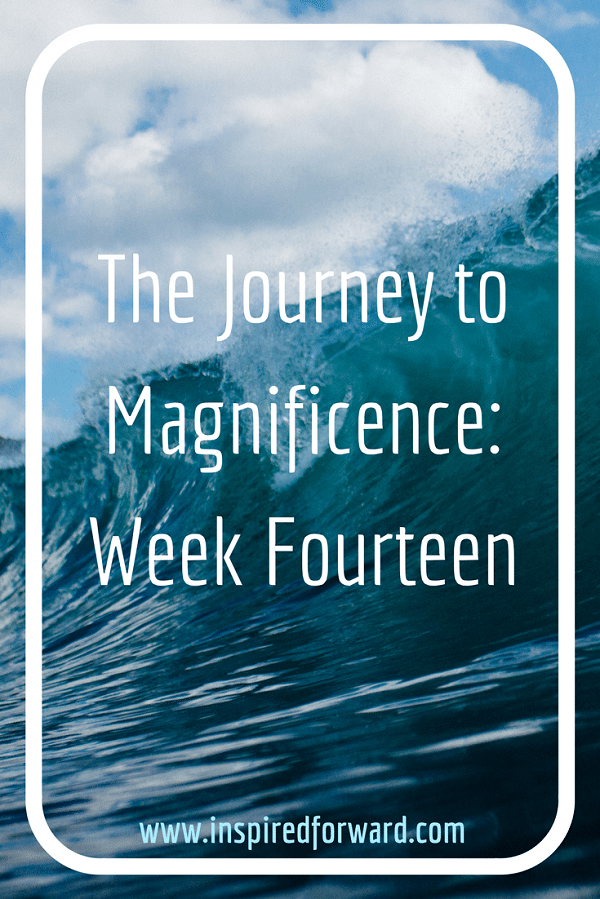 The Journey to Magnificence is a series of weekly summaries of my journey through courses and resources provided by or found through the Work at Home School, hosted and delivered by Caitlin Pyle.
If you missed a post or found this one first, the others can be found here: