Inspired Forward is an Amazon Affiliate partner.
Welcome to The Journey to Magnificence! This is week seven: March 25-31, 2018.
The Journey to Magnificence is a series of weekly summaries of my journey through courses and resources provided by or found through the Work at Home School, hosted and delivered by Caitlin Pyle.
If you missed a post or found this one first, the others can be found here:
You know, I always have these big plans and long lists for doing stuff every day. For some reason, I often feel like I need to get a lot done to feel productive, instead of doing a few important things and leaving the rest for later. Thomas Frank talks about picking your 3 things per day. I have to actually start whittling these daily lists down because inevitably I don't get to some of the items and then they get put off.
"She needs to sort out her priorities!" Ron Weasley
Me too, Ron. Me too.
Courses of the Week
Intentional Blog

Simple Pin Master Course

Time Management Magic

How to Keep Your Cat from Eating All Your Power Cords
Sunday, Day 43 – Distraction Cat
Our cat is apparently very social. She has been all over my desk the last two days and decided that the perfect place to lay down is either on my mousepad (and mouse) or behind my laptop.
Needless to say, she's making it more difficult to do my work, but that's not a bad thing. She's adorable, soft, and cuddly-and I love having an animal to pet again. Petting dogs and cats helps reduce stress, which I can totally get behind! It explains why I need to pet every dog I see…including extremely tiny Chihuahua puppies at PetSmart when buying a cat tree, even though I'm not fond of small dogs.
Pinterest
Pinterest is interesting. The Simple Pin Master Course is very informative for optimizing things, but when I think about the fact that I'd need to post upwards of 50 pins a day and have between 50-75 boards…my personal account doesn't even have 50 boards! I have questions about this; mainly about repinning your own images multiple times across multiple boards.
In any case, apparently, you can add a widget to your website with a Pinterest board! That's definitely cool.
Intentional Blog
So, I'm going to have to re-think my strategy of doing one action step from Intentional Blog every day. Many of the module 3 action steps are to write pieces of cornerstone content, but I don't have time to write an entire post every evening. So, a modification: finish each action step before moving forward – but instead of publishing as soon as I write those pieces, SCHEDULE them instead.
This is to help me feel better about my progress and prevent feeling burned out.
So much so that I had a late start with last week's posts, notably the one on dealing with overwhelm! Fitting, eh?
Monday, Day 44 – Kitty Committee
Luna is still settling in. Today is day four of being a cat mom, and I hope I'm being a good cat mom!
If Mondays could be typical, today would be a typical Monday. I've been feeling a little ho-hum and to be honest, these summaries are being written way after the fact. It goes back to running out of steam after powering ahead for so long – I mean, this is week seven!
I got a few things done tonight – another video of Time Management Magic (not actually into the time-management part, yet), finished the Blow Your Stress Away course by ScrawlSchool, and watched a webinar by Jeff Goins on his Effective Writer method.
AKA there is no "good writing," only "effective writing."
Tuesday, Day 45 – Guest Posting?
I'm starting to think more seriously about guest posting and putting up some content upgrades. There's this tool called GoViral, by Videofruit (I heard about them through Jeff Goins) that's supposed to create viral traffic by creating an incentive. Buuuuuut I'd need a freebie or a content upgrade or bonus for it to work, and I'm still slacking on that email course.
Or doing anything else for a freebie.
On a more productive (and simultaneously less productive) note, I finished Simon Sinek's Start With Why today.
I truly believe that everyone should read this book. Sinek consistently shows how starting with WHY changes everything about what you do and how you do it – especially important among the blogosphere, where knowing your WHY seems to be a prerequisite to success.
It took me a few extra days because of the new kitty; it's harder to read for 30 minutes straight in the morning when you've got a feather duster trying to eat your power cords or destroy the laser pointer.
Wednesday, Day 46 – Busy AF
Today was extremely busy at work. I've talked before about my adoration of the product called Smartsheet. I spent all of this morning helping teach a workshop on it to my coworkers! It was actually less-scary than the webinar I helped with, probably because I wasn't the one talking for three hours…
Anyway.
I started the first part of Find Your Why by Simon Sinek this morning, which is the companion piece to Start With Why. Find Your Why is more of a workbook or guidebook to actually determining what your WHY is, and it involves partnering with someone to talk about your stories and tease out a common thread from which your WHY emerges.
First thought: I DON'T HAVE TIME TO DO THAT.
Second thought: I really don't have time to do that.
Third thought: …I should make time to do that.
Seriously though, three hours to find my WHY…peanuts. (I'm trying to talk myself into it, can you tell?) I think I have a version of my WHY already (which is helping you, dear reader, cut through the chaos of anxiety, self-doubt, and overwhelm in order to live a well-organized life and become the best version of yourself).
The question is…could I go deeper?
Thursday, Day 47 – The Vet is NOT Scary
My morning writing habit is definitely starting to show actual progress. While my post on beating overwhelm went live this morning, I've scheduled next Thursday's already! In fact, I've got topics scheduled out through May 2018, though the body of most of them isn't written. It gives me content to focus on, though, which was partially the point.
Luna had her first appointment today at the V-E-T. She did very well, though she sure didn't like getting the rabies vaccine!
She's much happier when she's playing with her catnip taco or the feather wand.
I got caught up tonight in blog stuff-but not blog stuff for this site!
I own another domain that's not the colleenmitchell.co, but I never did anything with it. (Familiar story, I know). It was mostly because I was never truly happy with the domain I bought (it sounded really cheesy).
So now, that site is empty, and when it's up for renewal in January I'll be relinquishing it. That leaves me feeling better because I won't be spending money on something I'm probably never going to use again.
Friday, Day 48 – Spastic Tortellini
So, we're barely calling Luna by her name now. She's being referred to as "spastic tortellini", "spaz muffin," "little monster," and so on. Her new endeavor is to discover what lies behind my husband's computer tower and also discover why my phone charger is so interesting. She has been banned from the office a couple times for being a bad kitty.
I noticed today that my Pinterest traffic died down…by a LOT. Again, Pinterest is interesting… I haven't had a chance to continue with the Simple Pin Master Course yet (or implement much of what I have learned from Kate Ahl), but I'm sure once I have a batching schedule down to do some serious pinning, something will happen again.
Saturday, Day 49 – Hella Progress
You guys…cats and cords.
CATS AND CORDS.
Luna got booted from the office twice this morning because of her affinity for cords. I took that time to reorganize a bit of stuff to make certain areas less appealing to her kitty senses, so we'll see how that goes in reality.
Probably not much difference, to be honest.
But progress has been made.
All topics are scheduled out through the end of May

Two non-Journey posts are scheduled for real (for April 5th and 12th)

I created a new category structure for the site (check it out on the menu bar!)

I finished this post (!)

AND went for a walk. Pokemon Go has a new quest feature, which is actually pretty cool. Park + Pokemon Go Quests = I'm going to be getting a lot more exercise now!
Please now enjoy this gif of my husband teasing the cat.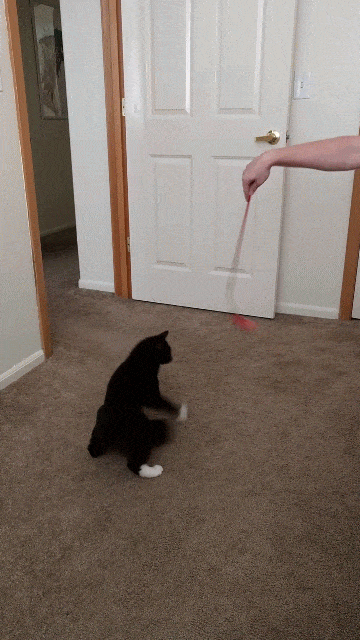 What's Next?
Having recognized that I'm feeling just a tad burnt out – not much got done this week besides writing (which isn't necessarily a bad thing) – I think I need to take it down a notch.
So, with that in mind, my focus for next week will (hopefully) look like this:
Intentional Blog action items that haven't been completed yet (only through module 3.5 – I stopped here when I realized I was getting backed up)

Actually finish the email course on stress. I feel really bad for having talked about it for so long and just…not finishing it. This is my perfection paralysis kicking in, and I hate it.

That's a simple one. I've got the next two months of topics picked out, so I just need to write them.
And now what will be a perpetual task – keep Luna from eating all the power cords.
Disclosure: Some of the links in this article might be affiliate links. That means I may get a commission, at no cost to you, if you click through and buy something.