Inspired Forward is an Amazon Affiliate partner, as well as an affiliate partner with other bloggers and affiliate programs. We may receive a commission from products purchased through affiliate links in this post.
Welcome to The Journey to Magnificence! This is week six: March 18-24, 2018.
The Journey to Magnificence is a series of weekly summaries of my journey through courses and resources provided by or found through the Work at Home School, hosted and delivered by Caitlin Pyle.
If you missed a post or found this one first, they can be found here:
This week was jam-packed in a different way, but the results have been amazing and I feel really good about everything! I feel like this is part of the magic of having a plan and doing my best to stick to it. It helps with accountability, especially since I've now been doing this for over a month and it's getting less scary every week to show you guys what's going on with my life and this journey through uncharted waters to magnificence. Allons-y!
Courses of the Week
Intentional Blog

Continue with videos from the Women in Publishing Summit, Fast Track Lab, and Mindset University as time allows
Sunday, Day 36 – Cats Cats Cats Cats Cats
I started Simon Sinek's Start With Why book today.
I mentioned at the end of last week's Journey post that I first learned about Sinek at my workplace during a leadership meeting, and have basically become obsessed with his message since then. To put it as simply as he does, people don't buy WHAT you do – they buy WHY you do it. His explanation and dissection of this phrase is incredibly valuable.
My husband and I spent several hours today at animal shelters looking at cats. We came across a few we like, but are currently not available for adoption. I'm definitely looking forward to connecting with a cat that meets all or most of our requirements to become our own little fur baby!
Other than the crusade for a cat, my work today was spent on the blog. I still have days where I feel less motivated, and I'm increasingly teaching myself to effectuate – just do it.
Monday, Day 37 – The Dogs of Instagram
Today I finished the last day of Jonathan Milligan's 7 Day Launch Your Blog Challenge! About half of it covered things I've already done, like buy my domain and set up a theme, etc. The rest of it, though, was extremely valuable. I rewrote my about page, clarified my passion and blog purpose, and have incorporated that into how I'm viewing the path forward.
In other news, I found a blog post by Put the Kettle On that listed 9 Instagram accounts that are all about animals, and because I love cute doggos (and other animals) I followed them all. What happened next was kind of strange and totally unexpected – I gained a TON of followers that were all-or-mostly dog/animal accounts, but none of them were the ones I initially followed! Must be a strange Instagram algorithm that got my account in front of those people, but I'm not complaining! Now my feed is full of cute animals as well as inspirational pictures and messages. You can find my Instagram profile here.
Tonight, besides watching another section of Intentional Blog, I attended a webinar by Selena Soo on how to take advantage of publicity in order to grow your business. She's an introvert like me, so it's nice to see that things like podcasts and TV spots are attainable even if you don't think so right now.
Tuesday, Day 38 – This One Cat Matches ALL Our Requirements…
But we're gonna have to fight for her. She's recovering from surgery right now and is not being taken off the adoption website (for convenience, I guess?), so we're going to have to call as often as we can to ask about her recovery and jump when she's ready to adopt. In fact, when we visited her she was doped up on post-op drugs and looked pretty floppy (and adorable) in her cat bed.
She's a cute AF black kitty meets all our criteria for a cat within 50 miles, so it's not wrong to say I'm excited!
In Other News
I'm thinking of writing a post that's basically an open letter to my younger self. I went through a lot of uncertainty and undiagnosed anxiety as a teen and in college, and while I can't go back in time to change anything, it might help lift a weight from my current self to do such a thing.
[bctt tweet="Have any of you written a letter to your younger (or future) self? What kinds of things did you say?" username="inspiredforward"]
Tonight's blog work consisted of deciding on the next two articles to write, as well as another Intentional Blog video and action step. I've gotta say, Jeff Goins makes everything so simple to understand! If you're thinking about starting a blog but not sure how to start it right, Jeff's Intentional Blog course is the way to go.
Wednesday, Day 39 – We Might Be Getting a Cat Tomorrow (!)
This is the power of putting yourself out there, you guys!
I'm part of a Facebook group for achieving mental health and wellness and had the opportunity to post a link to my article on establishing strong boundaries. The group owner shared it with the whole group, and then said she'd include it in her editorial calendar! I'm so appreciative that she's doing that! It'll put Inspired Forward in front of a larger audience, which makes me excited!
I called the shelter tonight and OMG OMG OMG WE'RE VISITING OUR DREAM KITTY TOMORROW!! Can you tell I'm excited??
So I know I've been putting off editing that email course on stress – what else is new? Anyway, I edited the first 3 emails in that! So, progress!
Thursday, Day 40 – Feels Like Magic
Speaking of getting in front of a larger audience yesterday, my pin for the post 4 Things You Do When You Don't Love Yourself First went kinda viral. Over 100 new visitors came from Pinterest, specifically this pin, so much so that it's making me reconsider how to approach Pinterest. I honestly never expected that kind of traffic from one pin, but there you go!
So, because my article on setting goals went live this morning (Thursday, March 22nd) I submitted it to be included in the expert roundup by It's All You Boo on the subject of setting goals! While not technically guest posting, it's still a great opportunity for collaboration, which I'm excited about starting!  
WE GOT A CAT!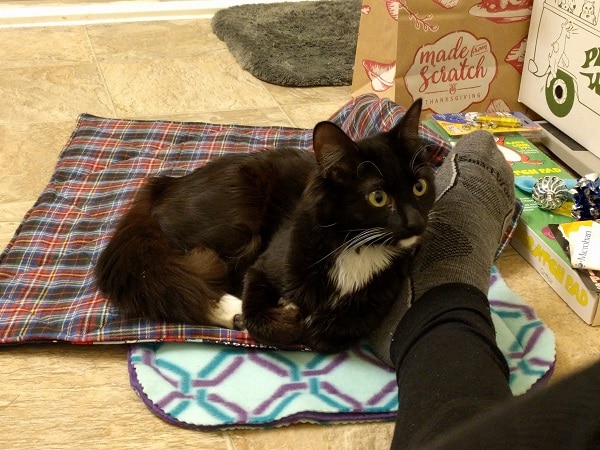 My husband and I are now proud kitty parents! This is Luna, the newest member of our little family. I think we were actually pretty lucky to get her because when I called the shelter yesterday she'd only just been made available for adoption and the shelter hours made it so that between calling and getting to the shelter today there were only around 2.5 hours where someone else could've adopted her. Since it took us 2 hours from arriving at the shelter to walking out with her, that would've been plenty of time for someone else to make the same decision!
Hopefully, she will adjust quickly and be an adorable catloaf in our house.
Understandably because of this adoption tonight, I didn't do any work on the blog except for my usual morning 300 words. And that's totally okay! This adoption is proof that you can't plan everything perfectly, and it's okay when other things take priority.
This cat is definitely a priority now!
Friday, Day 41 – Reflections on Mean Girls
I've discovered that my morning routines are going to be a little different from now on.
Luna's such a cute distraction! My morning routine got off track a little and I didn't read or meditate as long as I wanted to, but being the first morning with Luna it's not a total surprise that things are different. This cat is a total spaz when it comes to feather chase wands. Like, playing by herself with the feathers and pulling the feathers out kind of spaz. It's adorable.
I might have spent a good several minutes playing with her instead of doing my usual morning stuff…
I also stopped by the pet store on the way home and loaded up on things to spoil her with…
So besides being active in a Facebook group for bloggers and repinning pins/commenting on blog posts, tonight was movie night! The husband and I watched Mean Girls, and man, watching that as an adult is slightly uncomfortable while still being hilarious.
I would have had a meltdown if I went to a school like that.
Literally everything Regina George does would have been super detrimental to my mental health.
And, it's obvious that she does the same damage to most (if not all) the characters in the movie. If there's a lesson to take away from Mean Girls besides that bullying is literally the worst, is that it's important to stay true to YOURSELF instead of trying to be who someone else wants you to be.
[bctt tweet="Lesson from Mean Girls: stay true to yourself instead of trying to be who Regina George wants you to be." username="inspiredforward"]
Saturday, Day 42 – First Meetup!
Oh man.
Today.
So much is happening today.
Such productive.
Much busy.
Wow.
Yes, I referenced the doge meme.
This morning I did a lot of kind of administrative stuff for Luna. Registering her microchip, making sure she's legit with our landlords, going through her adoption folder. She's also covered by kitty insurance now, and is scheduled for her first vet appointment! Getting her crate-comfortable will be interesting…
Meetup With Internet People
This afternoon was exciting: it was the first meetup for members of the Work at Home School who live in or near Seattle! We talked about our personal goals, how we ended up in WAHS, and we got to know each other. While not everyone was able to make it, it was still a really valuable thing to do – it made this whole thing feel more real.
Like, Caitlin's real. I wouldn't have met the people at the meetup without Caitlin, so it's like tangible proof that this all is real.
And that's pretty important to me.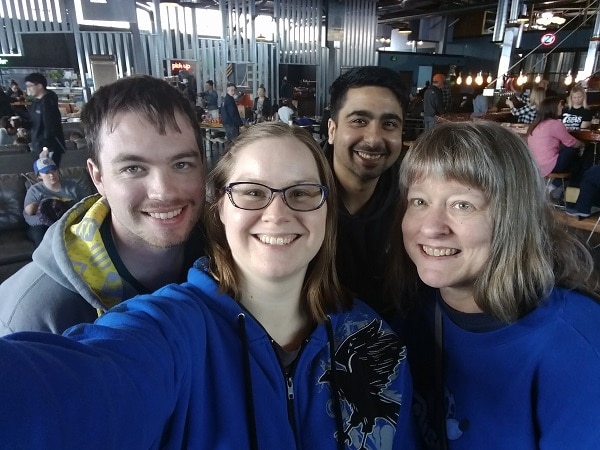 Cool dude on the left (the Hufflepuff to my Ravenclaw) is my husband. 
A Bunch of Courses!
After getting back from the meetup today, I was super motivated to get some work done! I skipped doing anything with Intentional Blog on Thursday and Friday (because of adopting Luna and then movie night), so I got 3 days' worth done.
I enrolled in two more courses – both of which I just decided during the meetup to start in the next month, because of the direction I'm going. Those courses are Kate Ahl's Simple Pin Master Course and Lee Cockerell's Time Management Magic course. And, because I feel like an overachiever at times, I got the first module of Simple Pin done, as well as the first video from Time Management Magic.
No time like the present to start!
What's Next?
So, like I said in the last section, at the Seattle WAHS meetup we talked about what we want to do going forward, and as I was there I realized I should probably do the course on Pinterest next, along with Time Management Magic. Now, I've already started those, but now I need to continue and finish them!
That means for the next week or two my focus will be on these courses:
Intentional Blog

Simple Pin Master Course

Time Management Magic
It seems like every week I have things I want to get done, that don't.
That's my fault.
I haven't learned how to effectively schedule what I'm actually able to get done. This is partly because of unexpected things that come up (car disaster and adopting a cat come to mind), which means I need more buffer time for things and a day-by-day plan that doesn't get super jammed. I need to take my own advice and make things as small as possible.
Disclosure: Some of the links in this article are affiliate links. That means I may get a commission if you click on them and buy something.