Inspired Forward is an Amazon Affiliate partner, as well as an affiliate partner with other bloggers and affiliate programs. We may receive a commission from products purchased through affiliate links in this post.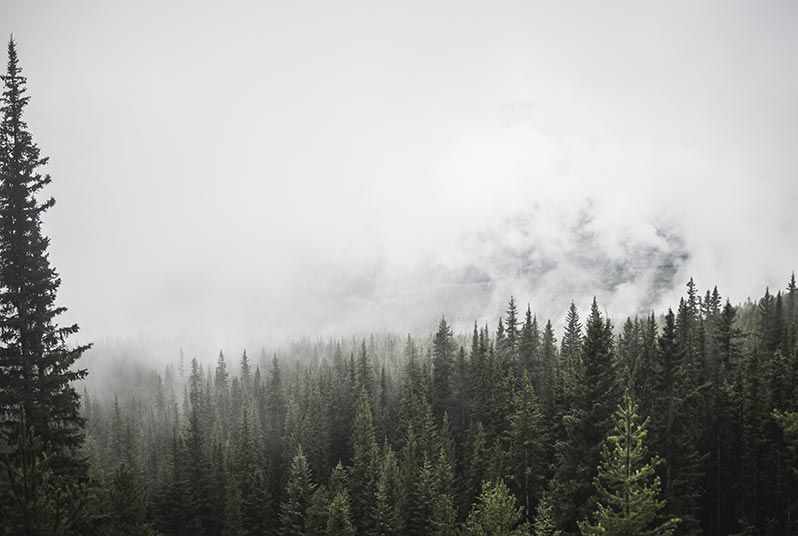 All right! Welcome to week two of the Journey to Magnificence: February 18-24, 2018. If you missed last week's, you can find it here. Last week was a bit of a whirlwind of information and scheduling. Honestly, it was a little exhausting. That might be a sign to slow down!
Courses of the Week:
21 Day Self-Care Challenge (continued)
10 Day Mind Reset Challenge (finished)
Job Fit Crash Course (mostly finished)
Mindset University
Zero-to-60 with Evernote, Module 1
Webinars and other free videos/resources to digest
Okay, so I'm not slowing down, apparently.
Surprise!
Day 8 – A Race to Do All the Things Before Church
Sundays are nice. I wake up early and challenge myself to get as much done as I can before I leave for church. Today was pretty good on that front.
I read the introduction to Cal Newport's Deep Work. A lot of people reference it as the authority on getting into a flow state where you can just FOCUS on your work to master hard things fast.
Day 7 of the 21 Day Self-Care challenge was all about setting a date with yourself to do the thing that gives you a natural high – the thing that when you're doing it, time flies. I scheduled a block of time on my calendar to have a Selfie Date. I have no idea what I'm going to do during it yet! (That's a lie. I'm probably just going to write, read, and drink coffee at Starbucks next Sunday.)
I wrote around 300 words in Cold Turkey Writer this morning. All of it was content for last week's review.
Job Fit Crash Course
Part 3 is all about imagining a day in the life of jobs or positions you're considering and evaluating them with the fit score, as well as what the day actually looks like. I found this exercise useful because one of the ideas I came up with was completely made up and I had no idea where to even start in imagining a "day in the life." You can do this part as many times as you have job ideas, to get a feel for what you would really like to do.
I also watched module 1 of Mindset University today, but will probably have to watch it again later because I haven't gotten around to doing the action steps that they tell you to – namely, writing down what you've been doing and how you feel about it every 30 minutes for 5-7 days. My internal excuse is that "I'm busy!" but I've made time for everything else, so I need to make time for this or just schedule it for later and not feel bad about doing so.
I spent today editing one of my free-writes into a post, which was the initial post of this series, Tell Your Inner Voice to Shut Up and Make Life Magnificent. I found myself losing track of time while working on it, which was fun! Today was also the day I decided on when I should start posting for this collection of blog posts.
You should expect installments of the Journey to Magnificence Series on Monday mornings.
Day 9 – So Much Work, But I Have All the Time in the World
Day 8 of the 21 Day Self-Care challenge: say nothing negative! To be honest, I have no idea if I actually adhered to this. I tried to catch myself being negative, but lately, I've been focusing on the positive and that's helping move my thoughts away from negativity anyways. Yay!
Did a lot of website tinkering and post editing this morning. Time freaking FLEW—and the end result was the posting of my first post since February of 2017.
Edited post for SEO optimization and readability
Created Canva images for Pinterest, Facebook, Instagram, and Twitter
Set the featured post so that the image I want to show up shows up in the right places
Signed up for SumoMe and Disqus

SumoMe provides those spiffy share buttons on all the pictures
Disqus is having problems. Womp womp. For now all commenting is through the native WordPress comment system.

Posted on Facebook, Pinterest, Instagram, and Twitter because I haven't decided which to focus on.
Job Fit Crash Course video 4 is all about action – specifically, coming up with an experiment to test out all the ideas I had from the previous video where I thought about the "day in the life" of different jobs. This is my (super simple) job experiment: try out affiliate marketing for 3 months. I'm choosing this because I already have a full-time job that I love. I know that what I want to do involves writing, but I don't want to work for others with this particular side hustle.
More Courses!
Zero-to-60 with Evernote, Module 1 – got through the whole thing today; it was really simple with a lot of great content. I'm pretty sure that eventually I'll be investing in the rest of the course and getting Evernote Premium. I'm getting tired of rifling through my filing cabinet, searching for medical records and old tax documents. Also, the feature where you can search for text within pictures is brilliant.
I own a new domain: I bought colleenmitchell.co even though I have no idea what to do with it.
I also created and tested my welcome email for my email list. If you haven't signed up, it will be the way to get all the cool stuff that I'm making later!
(Yes, I know that was vague.)
Today was also the day I went through the Scrivener interactive tutorial. It took a while, but I think it was well worth the time spent to learn the way to use this powerful software.
So, full disclosure, I didn't write in Cold Turkey Writer today because I spent a lot of time editing last week's post in Scrivener.
Day 10 – Slow Days are Still Important
Day 9 of the 21 Day Self-Care challenge: Today Eileen has us remembering a moment where everything went RIGHT and you're on the top of your game! The only reason it feels like a fluke when this happens is that we've been conditioned to feel like we shouldn't be magnificent all the time. Winning at things is when our true confidence shines through.
My moment is kind of nerdy. Last fall I was at a conference for work and the keynote speaker asked for the person who has the nicest handwriting. Almost without even thinking, my hand shot up and I stood in front of over a hundred people from my company, writing a list for the keynote speaker as he went through his presentation. I went home from that conference known as "the scribe." It made me feel AMAZING.
My 300 words today in Cold Turkey Writer were a bit of an angry writing at something that had been bothering me. It was good to get it out of my head even though I'm never going to use it for anything creative.
I spent some time this evening updating the pictures and featured images in my old posts. It's important to have a consistent look (branding) for featured posts, so I figured I should go do that before it got lost in my to-do list.
I also signed up for Amazon Affiliates today! Affiliate Marketing is considered a powerful tool and a great way to make money online without pushing sales or selling ads.
Day 11 – Hustle, Hustle, Hustle, SCORE
Day 10 of the 21 Day Self-Care challenge was to take a break from the challenge! Or, alternatively, use it as a catch-up day.
Soooo I woke up at some point last night and had this great idea for what to write about this morning in Cold Turkey Writer, and then when I got to my computer after waking up for real…I promptly forgot what it was. So this morning was a  hair over 300 words of word-vomit.
I was feeling a little bored at some point, so I wrote out a "projects to focus on" list which kind of evolved into a tangent thought.
Figure out a posting and batching schedule – the Journey to Magnificence series will post on Mondays, other posts when they exist will go up on Thursdays, and I should probably plan my batching for the weekends.
Research the best way to use and optimize affiliate links
Getting legit with all the business licensing and stuff
The WAHS courses, obviously
All the freebies!!
Long Form Content
Jonathan Milligan hosted his Blogging Trends Playbook webinar tonight. It was live and comments/chat were enabled, so it was cool to have him read our comments out loud and recognize us during the webinar. I've taken some of Jonathan's advice to heart, especially the one about long-form content, which is the idea that longer posts (over 1700 words) are ranked better on Google.
In case you didn't take the time to count them all, The Journey to Magnificence: Week One was almost 3000 words! And this one is about the same! In the past, I'd think that I couldn't write that much for a single blog post, but having a template (like this one, where I'm summarizing each day) makes it easy to fill it out and meet or surpass my word count goal.
I edited and published last week's post TONIGHT. I stayed up too late to do it, but I felt so satisfied that I got it done and up when I said I would. #WINNING!
Another thing I've been doing recently is getting more involved in the online communities where I think my audience hangs out. I'm in several mental health support groups on Facebook, and whenever I see a post I can give advice on, I've been commenting.
Day 12 – It Snowed in Seattle in February. Everyone is Freaking Out.
This morning in Cold Turkey Writer I got the first 300 words of this post written!
Day 11 of the 21 Day Self-Care challenge is about re-framing "should" statements into something more positive, ideally making it about the willingness to learn things instead of lamenting that you "should" be able to do them. I don't find myself making "should" statements a lot, but it makes sense to avoid them because they drag down our emotions.
I did some quick image shuffling for the post that went live last night and was able to make new images in Canva on my phone. It's really amazing the power we have in our phones. If I really wanted to (or needed to) many of our businesses could probably be run from our phones. Kind of scary to think about. A caveat about that, though, is for some reason it also messed up my paragraph spacing on the last two posts. I had to go and fix that after I noticed it.
I attended Michael Hyatt's webinar on 7 Steps for Faster Audience Growth tonight. Holy cow! His webinar style is SO fast-paced. He had a workbook accompanying it, and I'm glad I printed it out because I barely had time to fill it in as he went through his slides. He has a lot of great content, and I think I might join his Platform University in the future if I think it would help me down the road. For now, though, I'm focusing on the Work-at-Home School courses.
Day 13 – I Didn't Die During My Webinar! #Winning
Today's burst of writing in Cold Turkey Writer (you know what, I'm just going to call it CTW from now on. It feels like I'm artificially buffing my word count by typing it in its entirety every single time).
Where was I?
Oh, right. I got 300 words out for a draft post on why you need to love yourself before loving others. It's an important topic for people to have good mental health in their relationships – and to have good, strong, lasting relationships too.
On day 12 of the 21 Day Self-Care challenge Eileen asks us to choose a Bible verse from a list she provides that we identify with the most, and to speak it out loud.
I chose Philippians 4:13
"I can do all things through Christ who strengthens me."
This one is good for me to remember because sometimes life can just feel overwhelming, and the solution is to turn back to God.
Well. Today was the day of my webinar at work. And it went very well! At one point I showed a really cool Smartsheet feature and after a beat of silence, all the ladies attending just GASPED as one, recognizing how useful the feature could be for them. It uplifted me to witness that response. It was true, what that person told me: I had the power there. I had the knowledge, and they needed me to impart that knowledge.
I took a bold step today and shared my posts on my personal Facebook feed. I've never done that before, worrying about what people would think of my chosen niche, wonder why I would think I could even talk about mental health, etcetera. But I did, and it's gotten a pretty good response. I guess I should have done that earlier!
Just another reason to do the scary things anyway.
Day 14 – Fat Skis are Phat and > Literally Everything Else Used to Slide Down a Hill
This morning I woke up way earlier than the buttcrack of dawn. I popped awake at 3:00 AM even though my alarm was set for 3:25 AM. I'm not crazy.
Well, I might be. Needless to say, I did not write in CTW this morning, but I did write later. Much, much later.
I went skiing today with my dad. We go a few times every season, and we go to a resort that's about a 3.5-hour drive away.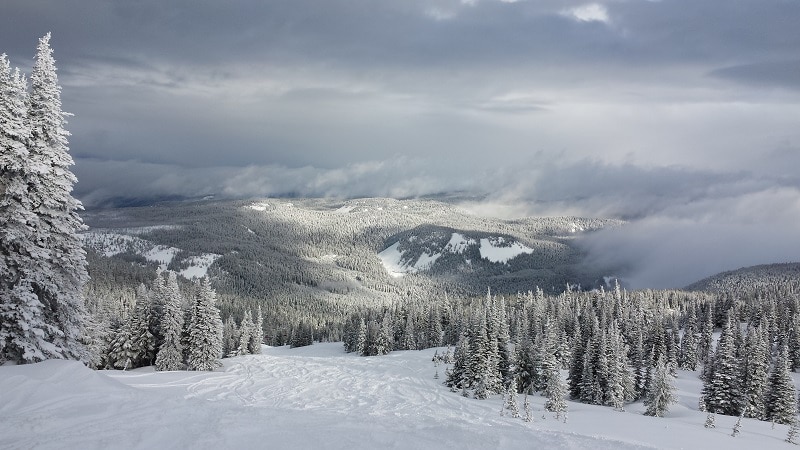 This is White Pass in Washington state. (Picture is from 2016. Today wasn't clear at the top of the mountain.) In all honesty, it's the most beautiful place I've skied; I'm in awe of the view of Mt. Rainier when the skies are clear. The community is like a family. It's so easy to fall into conversations with people over lunch or on the lifts. Skiing here is the height of exhilaration for me. This trip felt better than usual because we demoed fat powder skis for the first time and the difference is astounding.
Since today was a heavy powder day, if we'd been on our original skinny skis we would have sunk so badly and just fought the whole day against the snow. I know fat skis have been around for a while, but as this was our first time we just can't stop raving about how great they are! Honestly, I think using better skis helped with how I felt mentally afterward – I wasn't nursing a headache and I didn't feel like I'd been cheated by the weather.
Bonus!
I actually ended up reading the rest of Cal Newport's Deep Work during the car ride to and from White Pass. For some parts, I felt like I was in a sort of "flow state" just while reading it, which was eye-opening. When you focus on something without giving in to distractions (e.g. your phone) you end up just doing more and doing it better than you would otherwise. It's definitely a book I recommend if you're interested in getting more value out of your work.
Moving on.
Day 13 of the 21 Day Self-Care challenge is about treating yourself as if you were a "cherished friend," not talking down to yourself and considering yourself your own best friend. How would you treat your best friend? Treat yourself the same way! I'll admit that I say self-deprecating things, usually when it comes to having to do presentations. I use it as a way to protect myself in case I fall flat on my face – so people aren't surprised. I'm slowly (very slowly) learning to stop this practice and instead fake the confidence until I become a master.
Today was long, so while I had a list of things to do after I got back from skiing, the only thing I actually did was write a bit for this.
The Plan for Next Week
I was going to commit next week to Mindset University, buuuuuuut Jonathan Milligan opened his Fast Track Lab for a free 7 day trial (but it was only available to register for free YESTERDAY. And it might have only been sent out to webinar registrants who didn't sign up for Fast Track Lab during the webinar.)
I'll be consuming as much of Jonathan Milligan's Fast Track Lab content as I can to decide if I want to become a paying member next Saturday.
Create a free 5-part email course using the template and tips provided by Mariah Coz of Femtrepreneur, who is the creator of the Your First 1K (YF1K) program where she walks you step-by-step through making your first $1000 as a content creator. I've got YF1K but I didn't do anything with it (again, I lost motivation. Which is a SUPER dumb reason, I know.)
Write the next post as I go through the week! It's so much easier being able to write about the day the same day it happens, not to mention easier to remember what I did without clicking through a bunch of Evernote notes.
Since this feels like a decent amount to commit to, I don't want to overload myself again. I'll attempt to just stick to these guys and MAYBE start going through the Summit freebies, as well as information from webinars I've attended in the past few days/weeks. There's just so much information I need to absorb and then ACT on.