Inspired Forward is an Amazon Affiliate partner, as well as an affiliate partner with other bloggers and affiliate programs. We may receive a commission from products purchased through affiliate links in this post.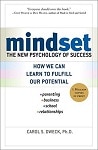 by Carol S. Dweck, Ph.D.
A book about the power of mindset and choosing what to believe about your ability to learn new things (growth vs. fixed mindset). Are you willing to experience failure for future success? Do you believe you can learn anything? How you view the world determines how you'll show up and what you'll get out of life. This book shows you how to change that view to one that serves you instead of holding you back.
Price set on Amazon
Buy Now