Inspired Forward is an Amazon Affiliate partner, as well as an affiliate partner with other bloggers and affiliate programs. We may receive a commission from products purchased through affiliate links in this post.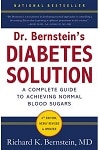 by Dr. Richard Bernstein
A book about how to take back control of your type 1 diabetes, or reverse your type 2 diabetes. This book is written by a medical doctor who was diagnosed at age 12 with T1D, and didn't become a doctor until he was in his 40's and realized that his doctor's advice was slowly killing him.
Price set on Amazon
Buy Now