Inspired Forward is an Amazon Affiliate partner, as well as an affiliate partner with other bloggers and affiliate programs. We may receive a commission from products purchased through affiliate links in this post.
So, today is the one-year anniversary of restarting this blog. I first set this site up in January 2017, posted three things, and then gave up.
But that all changed a year later when I opened an email from a blogger named Becca Klein, who was promoting something called the Work-At-Home Summit.
I kept re-opening that email, wondering about this summit thing, and it took me a good few days to actually click through to "claim my free ticket" to the event.
My life quickly took a sharp turn down the road of Online Business—far sharper than it ever had before. I feverishly took notes during the summit interviews, blocking off entire evenings and mornings to absorb it all around the sharp edges of my corporate job.
As I went through those short few summit days my mindset started to shift.
What if I could do what they do?
After all, I already owned a website domain and had another year of WordPress hosting all paid up.
What if… What if I did a reboot? Could I chase this amorphous dream of "something more" without really knowing what the ending looked like?
I figured, "Why not?" and went in whole-hog.
Doing so changed my life, probably forever.
What's Different?
For the longest time, I've had this feeling that something was missing from how I went about life.
I love my corporate job, don't get me wrong, but outside of those hours, I felt… Off.
Unfocused. Lazy. Bored.
And it seems like it's always been this way. In college, I filled that feeling with writing my epic-length Harry Potter fanfiction story. During my first two years of a real job I filled that time with a personal trainer, Skyrim (oh man, over 400 hours of Skyrim), and Pokémon Go.
Go Team Valor!
When that job ended and we moved in with my in-laws, that time blurred. It's hard to remember what I did day-to-day besides apply for jobs, play Skyrim and Assassin's Creed, read, and half-heartedly poke through one of the online courses I bought.
Now, it's all different.
Every day, I have something I need, want, and am excited to do.
I have virtual assistant clients, blogger friends, affiliate partnerships, and a community of people who are all chasing that same dream I thought I'd chase.
Probably most importantly, though, is you. My reader. Member of my tribe.
I've gained knowledge, expertise, friends, and my list of ideas for blog posts absolutely exploded.
But the biggest difference in all of this is my mindset. Why didn't blogging work for me the first time around?
Frankly, I didn't think I'd ever be seen, and I didn't have a vision.
Looking back, that six-month period of unemployment was the PERFECT time to get real and get serious about blogging, but I didn't have the right mindset. And that's what tripped me up.
Confidence
It's interesting—confidence doesn't come on its own. You don't just sit around, twiddling your thumbs, waiting for confidence to strike.
It's not a rattlesnake.
Confidence is something that comes AFTER you start doing the scary things and learning from everything you do.
My confidence in the past year has skyrocketed.
I'm not afraid to ask for advice in Facebook groups—or give advice, either. I'm not afraid to share wins or ask for feedback any more. I've realized that I don't know everything, and I can't do it all myself.
The longer I'm on this wild ride, the more I'm considering how things might grow beyond just me doing this thing.
It's funny… The post idea that threw me off the rails in 2017… I still haven't published. I got so hung up on the idea that that had to be my next post—and I didn't consider posting something else. So I just didn't post anything.
Now, I have the confidence and clarity that it's okay to move things around. I don't have to stick perfectly to a content calendar that might not work.
It's silly to think about now, but that was my state of mind back then.
Courses
My enrollment in the Work-At-Home School included access to 48 online courses. (You can sign up for the waitlist to hear when it comes back!)
This was in addition to all the other courses I'd previously—and afterward—purchased, like Melyssa Griffin's Blog to Biz Hive and Mariah Coz's Your First 1K program.
(I admit I still haven't completed the last two…)
But online courses were a game-changer for me. I picked the ones I thought would help me the most at the beginning, finished some, didn't finish others, and slowly moved through several courses in an attempt to figure out what I wanted to do and if I could actually do it.
A couple of courses had a high level of impact: first was Demir & Carey Bentley's Focus & Control Time Mastery course. That helped me figure out how to track my time and pare down each day's to-do list to only include the things that I actually had time to do.
The second course was Gina Horkey's 30 Days or Less to Virtual Assistant Success.
That course is the one that finally helped me earn back my initial investment in the Work-At-Home School. Within weeks of starting it, I had my first client, and within days of joining her premium Facebook group, VA Leads, I landed another client. And another.
Because of the changes in my confidence, I no longer felt terrified to send a pitch. After all, the worst that could happen is they say "No."
I still have a LOT of courses to go through, and I'm probably going to go through Melyssa's and Mariah's soon.
Community
The blogging and online business world is so nice! The people here are wonderful and I've joined several Facebook groups only to realize that a lot of them cross-share members.
The other cool thing was meeting other Work-At-Home School students in the Seattle area and getting together a few times to compare progress and share ideas.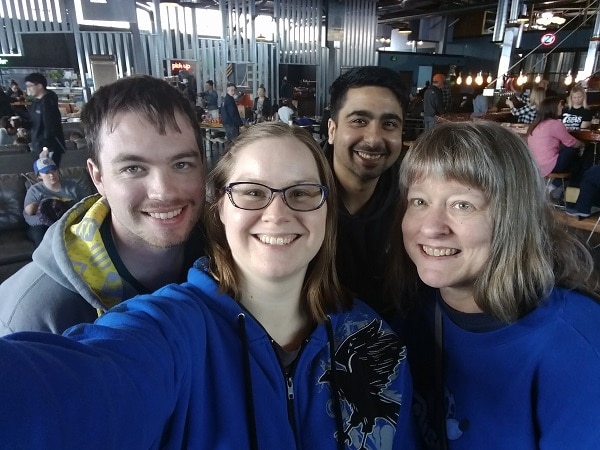 The community aspect is something I didn't quite expect, but I like joining into the conversations and helping out whenever I can in all my groups.
Things I Probably Wouldn't Have Discovered On My Own
Getting into this online world also opened up a lot of doors to things I had no idea existed before—at least, not REALLY—and probably never would have fallen into.
Travel Hacking
I'm really, really excited about this one. Almost as soon as I fell into this, I had the idea to pay for our 2020 trip to Scotland entirely with points and miles.
So far, it's going really well!
If you're looking into starting this hobby, it would be well worth your time and investment to check out Nina Manni's Get to the Point Workshop, as well as her podcast of the same name.
And because I'm a total organizational nerd, I built an Airtable base to track my credit cards, the relevant dates, bonuses, and which cards to use for which purchases in order to maximize points.
Podcasts
I knew podcasts existed before, but I never knew how useful or valuable they could be. I regularly listen to around 15 podcasts, and one of them is even put on by my friend, Davina Faust!
This is the full list of the podcasts I listen to:
Do It Scared—Ruth Soukup

Get to the Point Podcast—Nina Manni & Traci Stumpf

Turning Pain into Power—Davina Faust

Happier with Gretchen Rubin—Gretchen Rubin & Elizabeth Craft

Screw the Nine to Five Podcast—Josh & Jill Stanton

Pursuit with Purpose—Melyssa Griffin

The Work-At-Home Heroes Podcast—Caitlin Pyle

Lead to Win—Michael Hyatt

Smart Passive Income—Pat Flynn

Achieve Your Goals—Hal Elrod

Online Marketing Made Easy—Amy Porterfield

Goal Digger—Jenna Kutcher

The Life Coach School Podcast—Brooke Castillo

The Tim Ferriss Show—Tim Ferriss

Jocko Podcast—Jocko Willink & Echo Charles

Louder with Crowder—Steven Crowder
The bolded ones are my favorites. They're all relatively easy to find on whatever podcast platform you prefer!
Income Streams
Other than my full-time job, I have actually started cultivating other income streams.
Some bring in more than others, and the ultimate goal is to have passive income equal to or greater than the cost of our expenses.
In order of dollar volume:
Virtual Assistant work

Medium Partner Program

Affiliate Partnerships
I've thought about doing income reports like other bloggers, but it just doesn't sit right with me. While it's interesting to read how others make their (sometimes enormous) incomes online, it also tempts one to compare—and we all know that comparison is the thief of happiness. 
I'd rather tell you what's working for me instead of telling you exactly how much I'm earning on the side. 
Next up, besides nurturing these existing streams, is to create one or more digital products that I can sell on my own. The first one I want to try selling is the template for my credit card tracking Airtable base. 
I also want to try creating my own PDF printable planner; I've tried so many different planners, but none of them fully meet my needs. That's generally how planners come into existence anyway—someone can't find something that works, and so they create the solution.
And, of course, I'm planning to publish my first novel before November—the one I started during NaNoWriMo 2018.
Goals for 2019-2020
I'm going to keep following this strange, fascinating, exciting, and wonderful path through the online business world. I want to nurture the things I've built over the past year, try new things, and challenge myself. 
For the full list of my 2019 goals, I wrote an entire post on it here: I Choose to Create a Wealthy Life.
How is your life different from a year ago? Join the discussion below!