Inspired Forward is an Amazon Affiliate partner.
"You can't reach your potential by remaining in a past due season. Your breakthrough is coming. Strongholds are breaking. Get ready!" ― Germany Kent
Just like there are four seasons in a year, people pass through many seasons of life. Sometimes, it's just not the right time, and when we ignore all the evidence of that, we end up burning ourselves.
Seasons of Life are Biblical
King Solomon described the Biblical seasons of life in Ecclesiastes 3:1-8 (ESV).
A Time for Everything
1 For everything there is a season, and a time for every matter under heaven:
2 a time to be born, and a time to die; a time to plant, and a time to pluck up what is planted;
3 a time to kill, and a time to heal; a time to break down, and a time to build up;
4 a time to weep, and a time to laugh; a time to mourn, and a time to dance;
5 a time to cast away stones, and a time to gather stones together; a time to embrace, and a time to refrain from embracing;
6 a time to seek, and a time to lose; a time to keep, and a time to cast away;
7 a time to tear, and a time to sew; a time to keep silence, and a time to speak;
8 a time to love, and a time to hate; a time for war, and a time for peace.
With this, we should recognize that there is an appropriate time for everything. And not only that—
And we know that for those who love God all things work together for good, for those who are called according to his purpose.

Romans 8:28, ESV
This means that Christian believers can rest assured that God has a plan for us, and everything He does (or allows to happen to us) is for that purpose, which we might not ever understand.
Avoid Forcing the Wrong Season
Keeping this in mind, it's also important to avoid forcing the wrong season. Have you ever tried that before? Forcing a season of life (romance, career, plans, etc.) because you want it, not because the time is ripe?
Life has a funny way of putting us in our place when we try to force the wrong season. Things go wrong.
The romance withers. The career peters out. And the plans break apart.
Gretchen Rubin, on one of her "Little" episodes from the Happier podcast, tells a story about a man who kept asking the same question.
How Do You Know?
A farmer had a horse, and the horse ran away, and the neighbors said, "What bad luck!" And the farmer said, "How do you know?"
And then the horse returned with a second horse, and the neighbors said, "What good luck!" The farmer said, "How do you know?"
The farmer's son rode the new horse, and was thrown from the horse, and fell and broke his leg. And the neighbors said, "Such bad luck!" And the farmer said, "How do you know?"
Then the army swept through the town, conscripting all the young men, forcing them to go into the military. But they couldn't take the farmer's son, because he was in bed with a broken leg. The neighbors said "Ah! Such good luck!" and the farmer said, "How do you know?"
The lesson in this is that we can never know whether something is good or bad in the moment. We might think that a certain season of life is good or bad, but how do we know?
When I was diagnosed with type 1 diabetes at age 2, I imagine my parents thought it was such bad luck and wondered why it happened to me (and them). But they didn't (and couldn't) know how great a positive influence this disease has had in my life.
How could they? The future is unknown.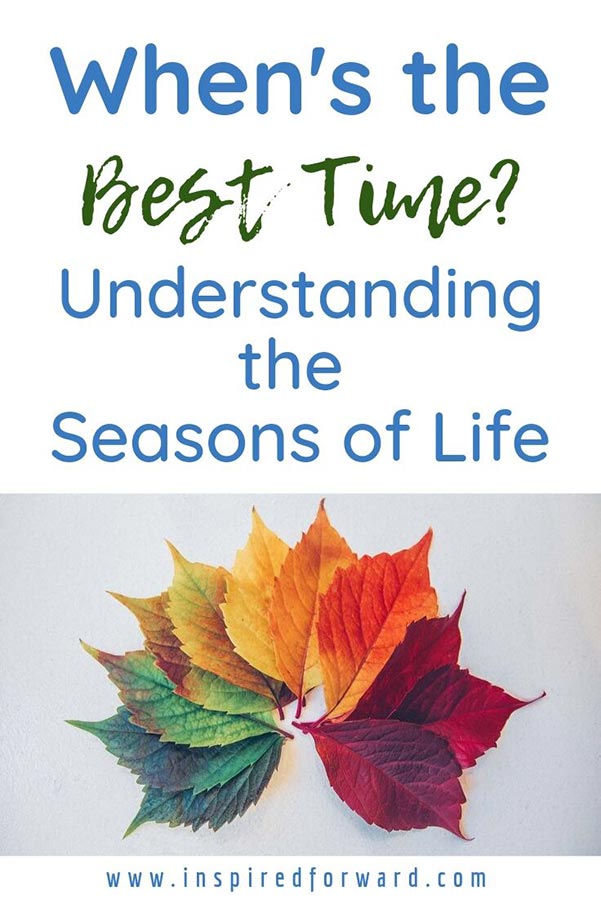 Growth vs. Stability vs. Contraction
These are three states of being. If you're not growing, you're either staying the same or contracting. If you're stable, you're neither growing nor contracting. And if you're contracting, you're not growing or staying stable.
These states are also seasons of life. For new businesses, there are periods ripe for growth that entrepreneurs should take advantage of—but trying to force growth when stability or even reduction is necessary can ruin the business.
Personal growth is all the rage—I love talking about it and considering how to expand more in my life. But I recognize that at certain times and in certain places in my life, I may want to sit for a while or even "turn some things off" until the next season of growth comes around. (This is called constraint.)
Growth Seasons
Creating a new business
Accepting opportunities
Saying "yes"
Trying new things
Stability Seasons
Maintaining current clients
Sticking with your routine
Solidifying habits
Repeating what you know works
Contracting/Constraint Seasons
Eliminating the 80% of your business "relationships" that only bring in 20% of the money
Quitting bad habits
Getting rid of distractions
Focusing on just one thing
Saying "no"
Seasons are Like Spirals
If you read Amy Simpkins' book Spiral, you'll notice that she talks about seasons like spirals. We know this as the phrase, "What goes around comes around." Just like winter comes every year, the different seasons of life can speak back around after a certain length of time.
Our feelings clue us in when the spiral starts or ends. It feels natural to move from one season to the next instead of holding on to make the season last longer.
When we hold on to a season past its time, you'll know it. You'll feel that resistance to moving on, wanting to stay comfortable in the season now past its prime.
I think this feeling is most stark when holding on to a relationship for too long.
Deep down, when we know a relationship is ending but we're not ready for it to end, we hold on. And that pit in the stomach, filled with anxiety and sadness and denial, is the body's way of telling you that you need to move on into the next season—the next spiral.
As humans, we don't like change.
We prefer things to remain the same, because stability lets us thrive—until it holds us back from the next season of growth.
What Season of Life are You In?
As I write this, I feel like I'm moving from a season of growth into a season of stability. I've spent the last couple months working on starting up the This is Type 1 podcast, and now I'm ready to settle into a routine that lets me create content for that, this blog, and my author website. I don't feel the pull to try new things right now. I'm more likely to unsubscribe from emails than sign up for new lists.
Can you tell what season of life you're in right now? Of course, different aspects of life may be in different seasons simultaneously. And that's okay! How do you now when it's time to move on from a season or a spiral of life?